I don't think I've ever said "I want to go to there" about a hospital, so I think this is a first. Check out these great photos courtesy of World Architecture News (WAN) of Frank Gehry's newest project, the Cleveland Clinic Lou Ruvo Center for Brain Health. My brain sure is healthy enough to know that this is an incredible building. The building officially opened on Friday.
The building is made up of two wings joined with a courtyard: the dramatic steel wing being the Life Activity Center and the simpler, subtle four-story clinic section where patient rooms and research space is located. The Life Activity Wing looks like someone took a steel building and crumpled it up in their hand like a piece of paper.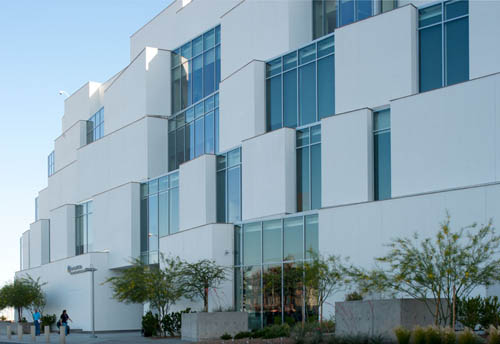 According to WAN, Gehry decided to design the building because he, like founder Larry Ruvo, has been affected by degenerative brain diseases. Ruvo's father had Alzheimer's and Gehry's analyst's wife had Huntington's disease. Therefore, this building is like a tribute to those they lost, and also a beacon of hope for finding treatments or cures for these unfortunate ailments.
Photos by Wade Zimmerman.

Design From Around The Web