If you're a photographer or graphic designer that lives, breathes, and works in Adobe Lightroom on the daily, you're very well aware any bit of well learned speed is always tempered by the need for accuracy when it comes to editing an image. Fast is good, accurate is better. Designed with Lightroom users in mind – both professionals and amateurs alike – the Loupedeck photo editing console reintroduces what we've lost in the era of virtual touch-swipe UI: an ergonomic and tactile mechanism for editing with acute accuracy.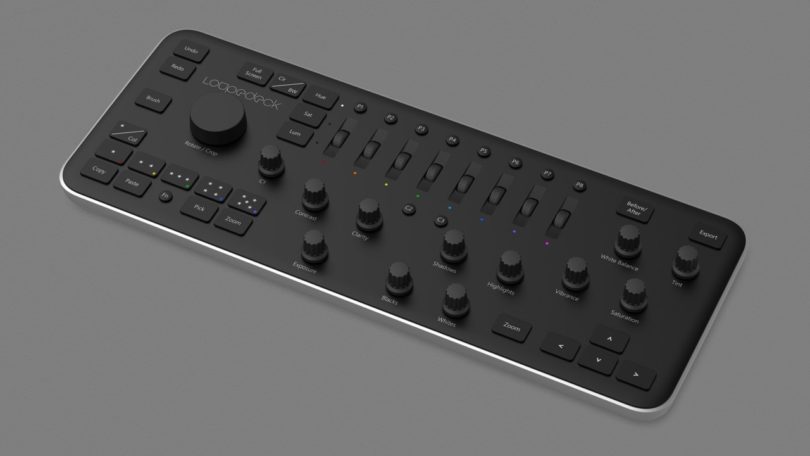 Developed by a team of former Nokia developers for both Windows and macOS Adobe Lightroom users alike (note: Adobe Lightroom 6 or Adobe Lightroom Classic CC required), the Loupedeck presents an intuitive assemblage of knobs, dials and buttons inviting exploration, while also recognizing the time-oriented requirements of photo editing professionals. In presenting a great many of the most common adjustment tools as tactile controls, the requirement for hunting across menus or even accessing keyboard shortcuts is reduced to a minimum or eliminated.
Our loaner's matte finish felt comfortable to the touch across each of its controls; whether using the large Rotate/Crop dial, turning one of the small row of color adjustment wheels (each turn offering a subtle click), or adjusting shadows and highlights with a knob, the Loupedeck's controls feel confidently aware users will need access to a wide expanse of adjustments across any photo editing projects.
Whether manipulating minute pixel-level edits or entire image adjustments, editing with physical controls delivers a more satisfying feedback between intent and execution. Simply put: it feels good using the Loupedeck right out of the box.
We've only integrated the Loupedeck into our workflow for a few weeks, but its productivity-boosting potential was immediate, one of those rare professional design tools that adds an element of fun (perhaps attributed to novelty, but also, who doesn't enjoy turning knobs, pressing buttons, and adjusting dials?). It's easy to imagine over the span of more weeks and months using the Loupedeck our productivity would improve even further, its easily memorizable layout navigable by touch and becoming as much part of muscle memory as any keyboard shortcut – the best sort of tool: an accessory you never think about, but that always delivers reliable efficiency.
The Loupedeck is available online for €249.00 with shipping to the United States available.