Cats love playing with and sleeping cardboard boxes, but who wants an ugly cardboard box sitting in the middle of their living room? That's where these new cardboard cat products from Canadian pet company Loyal Luxe come in. They're beautifully designed 100% recycled cardboard box cat habitats, The Canadian Cabin (saw this at ICFF and loved it!) and The Native American Teepee. Certainly much nicer to look at than a shipping box!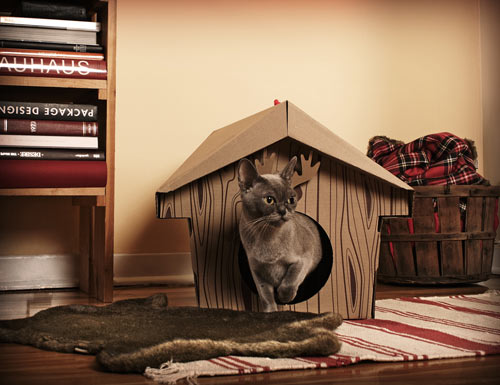 The Canadian Cabin
This cardboard cat hut comes flat packed and is assembled by the consumer. The package contains three cardboard balls, a textured cardboard carpet to place inside the chalet which cats will love to massage their paws on, four rubber anti-slip mats to stick under the chalet in order to prevent the cat from displacing it, and an assembly guide. Also included are four decorative ornaments, which are interchangeable to be placed on the façade: an antler, a fish, a bird and label in which the name of the animal can be written. And since it's cardboard you can decorate the outside as you wish with markers and crayons.
The Native American TeePee
Like the Canadian Cabin, the TeePee comes flat-packed and is easy to assemble with no glues. It is available with six interchangeable ornaments: the dream catcher, the feather, the tomahawk, the eagle, the bull's head and the banner in which the name of the animal can be written. The front cutout even expands if you happen to have a tubby kitty!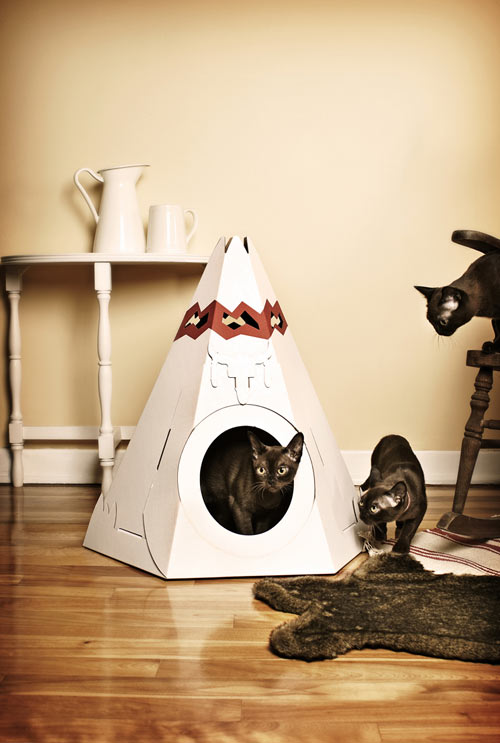 Buy them on Loyal Luxe's website.

Design From Around The Web