I spent some time in the Luxx Box booth chatting with Jason Bird because colorful plastic things are my "shiny objects." Luxx Box is an Australian brand created by designer Jason Bird, who uses color and fun shapes to create a more playful domestic environment.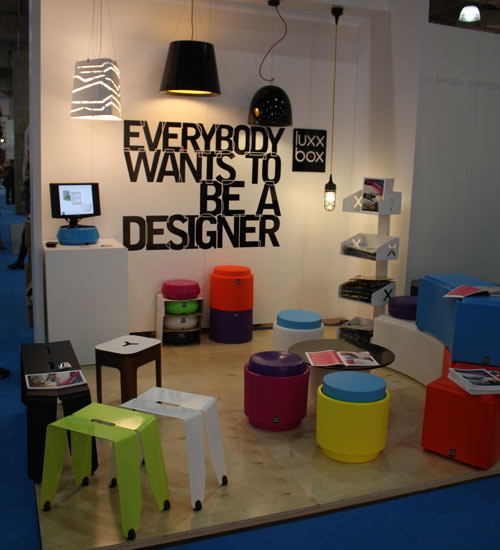 Check out some of their great products:
1eighth
Reminiscent of toy building blocks, the 1eighth bench is fun, curvy seating. When you arrange eight of them together they form a circle, thus the name 1eighth. They can also be stacked. 1eighth is a collaboration between Jason Birth and Paul Fairweather.
Vapor
Available as a table or floor lamp, the Vapor has a slatted exterior and a colorful interior.
Tingle
Tingle is a stackable, mix-and-match low seating option made of recyclable polyethylene. It is available with either a soft polyurethane pad insert or a hard Tingle top for added height and contrast. A removable Corian or Compact Laminate table top can also be added so you have somewhere to put your coffee.
Office Stak
Office Stak is a modular shelving unit reminiscent of in-box and out-box paper trays. It makes great storage for large binders or oversized magazine files.
Phase
This angular pendant lamp with random pattern creates fun and varying shapes of light. Phase comes in four sizes and three standard colors – it works great on its own as a decorative pendant or hung in clusters of three or more.
Chunk
Chunk is multi-functional: it acts as a monitor or TV stand and a cable wrangler.
Brainwash
The Brainwash collection of stools, benches and tables is manufactured from one single piece of formed then zinc primed and powder-coated steel. Each piece is finished off with custom designed polyethylene feet to increase stability. Security feet for public space lock down also available.