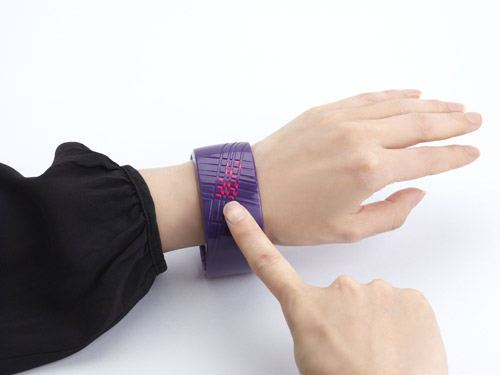 The Madokadoke Bracelet LED Watch by Ross McBride (Normal Design) is a watch without having the presence of a watch.
It's part of "Untrod," IDEA International's new design project that challenges to find product design possibilities beyond those that already exist. By collaborating with influential designers from around the world, the project seeks to question existing product typologies, inherently giving them new meaning. The first theme is to create a "watch" that is both new in concept and function.
In creating a product that goes beyond the existing idea of a "watch," Untrod has invited successful product designers such as Shin Azumi, Fumie Shibata and Ross McBride to express their creativity.
Ross McBride's Madokadoke watch/bracelet hybrid functions conventionally as a timepiece, its most defining characteristics are as a bangle or a fashionable bracelet. Only when you press the hidden button, the LED light flashes through the lines inscribed on the watch surface, providing a digital reading. With its feminine appeal, Madokadoke is named after Ross' wife. I want one!