I feel like I'm always saying that we never do enough fashion here on DM. Yeah, we feature cool shoes or a great bag here and there, but I wanted to do something original. I asked Philadelphia/NYC-based illustrator and handbag designer Kimberly Hall to design and make an original outfit. I love the way she incorporates illustration work into her vintage Etsy shop, and hoped she could create some great illustrations using vibrant Marimekko fabric. She didn't disappoint! 
Let's follow Kimberly along as she shops for fabric at Marimekko and makes an original outfit inspired by 1920s fashion. It's a fantastic sneak peek (a Deconstruction, really) behind the process of creating and designing a piece of clothing.
I headed to the Marimekko NYC Flagship store to get fabric, but also to take in all the lively design that the store itself has to offer. Between the accessories and clothing and tall shelves full of fabric, it was an inspirational trip, indeed.
My first thought and touch of the Villisika lightweight linen by Sawako Ura… it was such a nice change from all the cottons.
Considering a bold goblet print called Kippis designed by Maija Louekari, but I was ultimately drawn to things more abstract.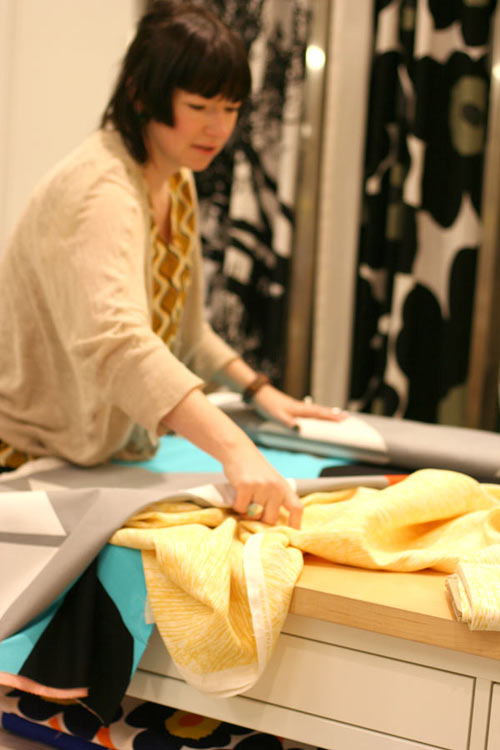 From the initial stash I pulled, I consider putting these two unlikely characters together…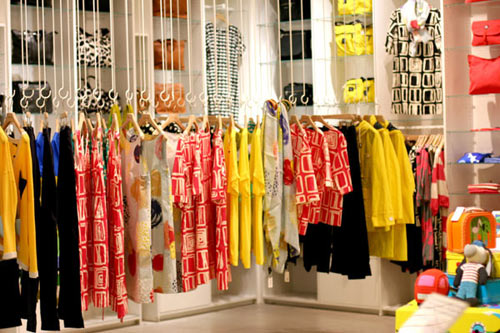 A selection of beautiful garments the Marimekko team created. I did my preliminary research on what I would find at the Marimekko store online, and I didn't really get into the clothing until I actually got myself into the store… there were so many cute and lovely pieces. It was hard not to just give up on my own ideas and buy the pretty things they already made!
A couple of early contenders… I was also really interested in exploring other textures than the standard cotton plain weave. They also have styles printed on cotton sateen (loved it!), cotton batiste (great hand-feel, but the prints during this time period weren't right for my ideas), coated cotton (oh, I would love to find a way to use one of these some time). Also, I would love to see a Marimekko wool. Wouldn't that be so cozy and wintery?
I made my decision and am waiting for an associate to cut my selections. Only slightly less intimidating than when I start cutting my pattern out of the material! I can't deny being inspired by Marimekko's lovely in-store catalog. I decided to take a leap and pair the Villisika with the bold Astro cotton, designed by Jenni Tuominen, that I was eyeing earlier.
Here's the lovely associate store who cut the fabric for me! I bought a generous amount of the linen because I was so enamored with the quality after seeing what Marimekko's apparel design team had made with some solid linens.
Back home, and happy with my selection, ready to get to work. This is my desk where the sketching and drawing and dreaming first began. It looks pretty clean here, but I am messy when I work. All the drawings start off as thumbnails in that notebook, and the I blow them out in color with the markers on letter sized color copy paper. For this project I left them all B&W, scanned them, and filled them with jpegs of the patterns so I could get a real feel for how the patterns would work in the garments. That's a trick I learned from a beloved designer at Hussein Chalayan.
Astro mood board: Artwork discovered on Butdoesitfloat, image from Harvey Faircloth blog, Ebony Fashion Fair selections, a Cesare Piccini clutch, Erte artwork, my sketch of a circle top, two Andy Warhol drawings, Marimekko Astro cotton fabric, bobby pin, earrings found on Fab.com
I always make a mood board for all of my design projects. This is a collection of ideas and inspiration once I settled on the Astro fabric. The bottom pic is a sketch that the top pattern ended up being based on. It's all done in one piece. I love one-piece patterns! I'm also really into Cesare Piccini handbags right now… they are so beautiful!

Villisika mood board: Image of Marimekko Villisika fabric, sketch of 1920s fashion, vintage Etsy find, Ebony Fashion Fair selections, a sneaker sketch of mine, an Andy Warhol sketch, a Cesare Piccini bag.
My images for all the mood boards were culled from a file I had began as soon as I started on the project. Some were plucked from my ongoing collections on Pinterest and some I dug anew just for this project. The sketch of the girl is by Andy Warhol and she was my first idea of the girl for this project. I love her hair! I also looked at a lot of pieces from the Ebony Fashion Fair collection auction. I got the catalog at the Manhattan Vintage Fair a few weeks ago.

Final mood board: Image from Harvey Faircloth blog, sketch of 1920s fashion, Bonnie Cashin sketch, my sketches in Marimekko fabrics.

This board shows the girl I envision as well as some of my flats and sketches as they start to emerge. This is the board I look to a lot as I drape and sew. A lot of changes and decisions happen in this late stage so it's really helpful to keep my early feeling and visions nearby to keep me on track.
Usually I start by doodling flats as I am trolling for inspiration images. I keep a notebook full of them and just draw good bad and ugly, trying not to self-censor at this point. Then, once my mood boards are done I go into proper figure drawing trying to figure out the silhouette.
This was my final sketch before I started creating the pattern and sewing the final piece. Obviously things changed during that process, but one of the things that kept me grounded were her oddly-drawn shoes. I just loved the heavy chunkiness of them with the prints. I think it made her feel much more modern. I hope you can see the connection in the final piece!
After the pattern making was done, I cut and sewed it in a plain cotton to test the pattern and make sure the design would execute and look good before I cut into my beautiful new fabric. The toile fabric was a perfect match for the quality of the Astro for the pants pattern, but not so great a representation of what the linen would do in the top. I had to hold my breath and cross my fingers. At least I was sure the pattern would sew up correctly!
Laying out my pants pattern on the Villisika fabric. This is my absolute favorite pants pattern. I traced it off a favorite pair of old 60s thrifted tweed trousers, and have updated it several times over the years. It has a center back zip, which I think is the most flattering place for a zipper on non-pleated trousers. I ended up not cutting the trousers out of the linen though…
I tossed the Astro heavy weight cotton up on the form to think about how this awesome pattern could be put to good use. I love this fabric, but it was a hard print to work with… a sign for a truly excellent outcome though!
Pressing, pressing, pressing! Lots of ironing is required in the making of a good garment. The natural fibers I chose (cotton and linen) take the iron and high heat well. They are easy to mold and generally very well behaved.
Now here's the real cutting! It's so hard to make that first cut with beautiful fabric. I ended up creating a one-piece pattern for the top (and dress!) based on some vintage patterns I have that use a circle as the basis for the design. The circles in that Astro fabric really did a number on me! I used some creative slashes and gathers to give it some shape, but still connect to that 20s look I found so appealing in the mood boards.
I managed to lay out my one large pattern piece so that I had enough Villisika linen to make not just a top but also a dress. I really wanted to see how the one-piece pattern would look drawn down into a dress length. So I cut the top on the crossgrain (which should give the piece more body, making it more like my firmer toile), and the dress went on the straight grain. I would love to get a wide enough yardage of fabric to cut this pattern on the bias! It would be so beautiful! But I think I will have to satisfy myself with a top on the bias next time… the dress is just too big in one piece.
In this pic I am fringe-ing. When I made the toile I made baby hems on all my edges, but it just felt too hard, so I thought the linen would naturally do well with an eyelash fringe edge. And I was able to have a white selvedge edge as the hem of the top for a nice change. Surprisingly fringe-ing doesn't really take too long if you are careful to cut (or tear! Neatly!).
Here is the experimental one-piece dress in Villisika! I love the subtle yellow pattern and though some colorful embroidery based on the colors from the Astro fabric would be a beautiful addition. You can see some of the design details of the dress better when it's on the form, but I hope you get a sense of it's great movement when it's on the model… I love the way the linen drapes!
This is the final piece and what is closest to what I originally envisioned. I am absolutely in love with the Astro cotton in the trousers. The giant repeat can be cut so many interesting ways to make shapes on the legs, and whatever I seemed to choose looked so great. I love this pattern!
Photos by Amy Ruffo.
This post was created in collaboration with Marimekko.

Design From Around The Web