The brainstorming process for our Make it Modern DIYs is always a fun one. Jaime, our editor, and I spend some time emailing inspiration back and forth, until we can figure out a special twist or combination of things to make something unique and all our own. About a month ago, we started talking about this lampshade. We both loved the look, but wanted to do something new. I've also just moved into a new house and am a bit short on space. How could I make a statement piece that has a bold 3D look without it jutting into what little room I have left?
I scanned the house and considered my own needs: a coat tree was taking up a massive amount of space by my door. That was it! I would make a coat rack that lays flat against the wall, but looks three-dimensional. It could be highly functional, but still have a great sculptural look when not in use.
To make one for yourself, you'll need: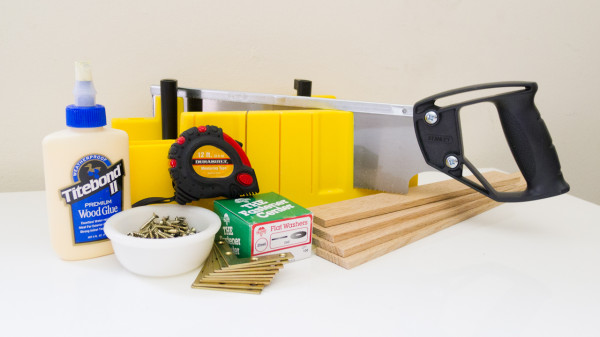 Supplies:
– four 4′ lengths of 1/4″x2″ kiln dried board (This is typically found near the trim and dowels in your hardware store)
– a mitre box and wood saw
– wood glue
– measuring tape
– 8 flat corner braces and 1/2″ screws (these usually come together in packs)
– a sanding block and medium- to coarse-grit sand paper
– a pencil
– size #8 flat washers (optional)
Step 1:
Measure out four 8″ lengths of wood and, using the end of the mitre box, cut across at a 45° angle (the image shows 10″ – I re-cut the wood once I realized the box wasn't quite the proportions I wanted!).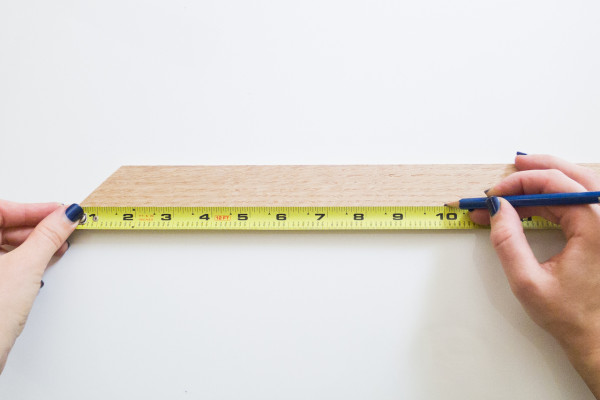 Cut four straight lengths at 12″, and four more at 17.5″. Check that your lengths are all even. If there is any variation, you can sand the longer lengths down to match. Don't toss those scraps just yet – we'll need them later on.
Step 2:
First, we're going to glue everything together. On the 12″ lengths, mark down 1.5″ from the top.
Run a small bead of glue along the cut edges of your 17.5″ lengths, and arrange the 12″ and 17.5″ lengths as shown below, with the top length set in at the 1.5″ marks you made. Repeat these steps with the second set of 12″ and 17.5″ lengths.
Step 3:
Once the glue has dried, attach the 8″ angled lengths in the same manner, arranged as shown in the photo below (it helps to have some craft paper, so that you don't glue the wood to your work surface!).
If you want a little more room between the front and back of the coat rack, you can use some of the scrap wood to create space where the lengths cross over.
Place the front piece on top of the back piece and secure with glue, making sure all your edges align.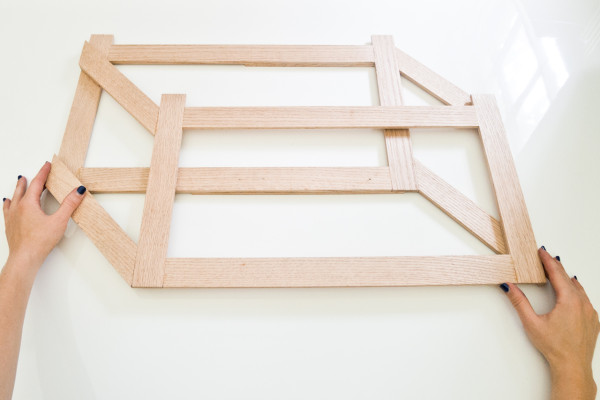 Step 4:
Flip the rack over so that it's face-down on your work surface. For better support, you can glue some of the scrap wood across any joints that need reinforcement, and follow by attaching the corner braces. If it seems like the screws are going to come through the wood, use the washers to add space on either side of the corner braces.
Flip the rack back over, and you're just about done.
Step 5:
Since wall material varies, there are a number of ways to hang the coat rack. You can try using picture hanging hardware, angled hardwood, or – what I did – a couple of discreet pin nails in the corners. Don't be afraid to browse around your hardware store and ask for suggestions if you need to.
Use it to hold your keys, mail, scarves, hats, or jackets. It makes a great space-saving solution without any sacrifice in style.