I've been swooning over all the copper fixtures I've seen recently, but each one I fall for ends up being out of my price range, so I decided to give it a go and make my own. It seemed simple at first, but like any good DIY, there was a whole lot of troubleshooting to get it looking clean and professional. Fortunately, I've worked out all the kinks for you! The end result was well worth it. It's a relaxing touch of café style and warmth in my otherwise cool dining room – perfect for enjoying a quiet cup of coffee to start the day.
You'll need:
Supplies + Tools:
– 8 x straight 2′ lengths of 1/4″ diameter soft cut copper pipe
– 2 x 1.5″ diameter metal O-ring (I used brass since I like a mixed-metal look, but if you can't find the color you want, there's always spray paint or enamel)
– 16 x 1¾" cotter pins
– a cord set like this one
– a pen
– C-clamp
– a ruler or T-square
– needlenose pliers
– a flathead screwdriver (optional, but helpful)
– a hot glue gun and glue (also optional, but helpful)
A quick note on working with soft-cut copper:
Soft-cut copper bends very easily, which means it's probably not going to be super-straight when you get it. If you want it straightened out before beginning the project, roll the way you would a clay coil: Start with your hands at the center and slowly roll the copper pipe while moving your hands outward. When it's mostly straight and even, line it up along a straight-edged ruler and carefully make any other minor adjustments.
Step 1: Firmly clamp one of the metal O-rings to a flat surface. On a length of copper pipe, use your pen to mark 9″. Rest the pipe on top of the O-ring, lining up the mark so it sits at the top of the ring. Starting at one end and working your way around, carefully form the copper around the ring until one end of the tube lines up with the other end, in a right triangle (see image below). Be careful to not to "bend" in any one area – it can kink the pipe.
Step 2: Repeat Step 1 with each length of copper. Use the first formed piece as a guide. You want to make sure they're all the same size and shape. When you've bent every length of copper, measure and make any necessary adjustments.
Step 3: Open one end of a cotter pin, using a screwdriver as a wedge if you need. Push the metal ring into the cotter pin. To get it all the way on, I found it easiest to pull the ring with one hand while pulling the pin with the pliers. If the cotter pin stays open, just pinch it shut with your pliers. Repeat until each ring has 8 cotter pins.
Step 4: Insert the end of a cotter pin into the shorter end of the pipe. Make sure it's as far in as it can go. Repeat with each pipe.
Step 5: Repeat Step 4 with the other metal ring and cotter pins, this time on the top end of the pipes. Space the pipes evenly. If things aren't standing quite the way you want, a little hot glue in the loop of each cotter pin should hold them in place!
Step 6: Thread the lighting kit through the top ring, and hang.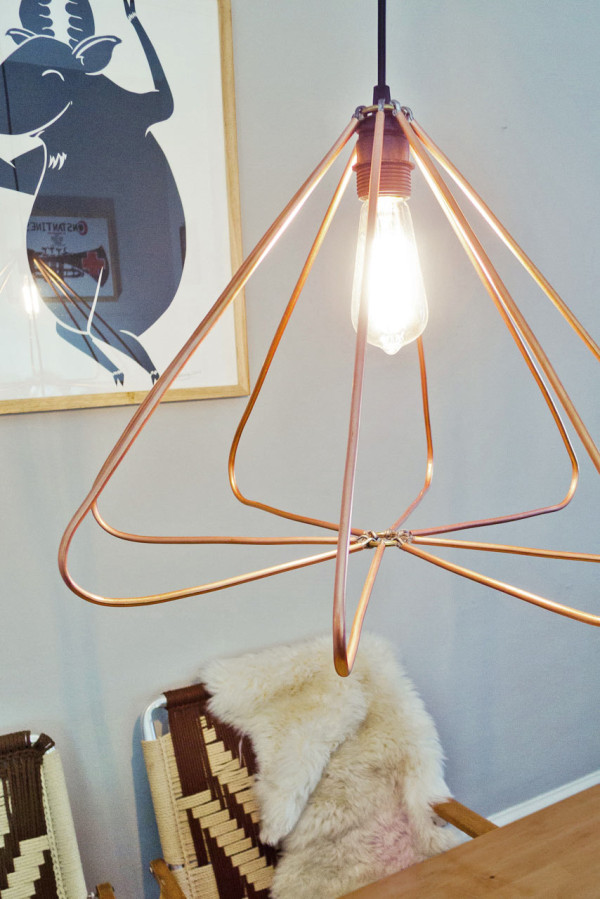 I'm thinking about making another and hanging them as a set – they'd look great over a kitchen island. For a real statement, adding more copper pipes would throw bold, dramatic shadows through the room. Have fun and let us know what you try!