Winter is slowly but surely creeping in, and while the days are still around 65°F, it's already dropping to around 40°F overnight. In our poorly-sealed rental home with rickety windows, the change has been palpable. I decided to do something about it this year, going beyond the standard weather stripping and shrink wrap and instead creating a modern version of a wall tapestry.
Not only does this installation keep the exterior walls a little warmer on the inside, but it helps diffuse the sound of noisy neighbors—a nice year-round bonus. The steps are simple and repetitive enough to do while you're watching TV, or sitting around and talking to a friend. And! the supplies you need are really minimal. Elmer's glue holds surprisingly well, but still cleans up easy when it's time to move out.
You'll need:
Supplies:
– 12″ x 18″ sheets of white stiffened felt
– ruler or straight edge
– craft knife
– bone folder
– cutting mat
– plain white craft glue
Step 1: Measure out your wall area to figure out how many panels you'll need to cover your wall. The panels you'll be cutting are 6″ x 6″. The wall I intended to cover was a bit of an awkward shape, so I admittedly threw a bit of caution to the wind on this step, and trimmed any excess once the panels were up.
Step 2: Cut down the felt sheets into 6″ x 6″ squares. Don't worry if they're not absolutely perfect – the felt tends to have a number of small variances, but since the installation is somewhat staggered, the imperfections don't read.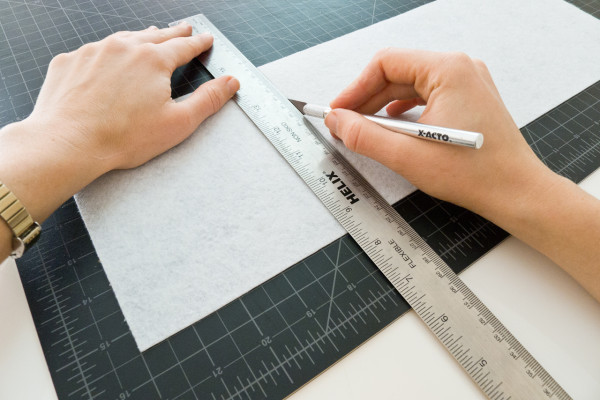 Step 3: Along the diagonal, using your ruler as a straight edge, score each square with the bone folder and fold in half. If you need to, run the bone folder down the diagonal while the square is folded in order to reinforce the crease, but make sure that you only fold it in one direction – folding the crease both ways will weaken the hinge you've created, and the felt will fall flat along the wall.
Step 4: Run a thick bead of glue around one half of the square, about 1/2″ in from the edge. Working quickly so that the felt doesn't absorb all the glue, position the square on the wall and hold about 15 seconds or until the square stays in place. If you'd like to move things along more quickly, you can hold the square in place with a little bit of masking tape until the glue dries. If you're working on a dark wall, you might be able to see the glue through the felt at first, but it'll dry clear. Continue doing this with each panel, layering the squares so that the corners would meet if they were all flush to the wall.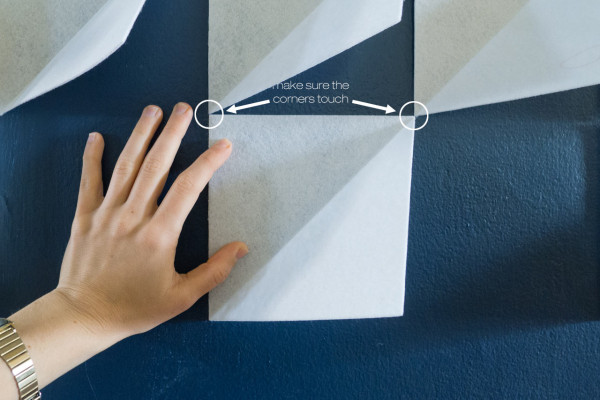 At first, I tried a "pixellated" version. I think this would work better on a large, squared-off wall. It was okay here, but it didn't turn out as well as I'd hoped, so I filled out the rest of the space.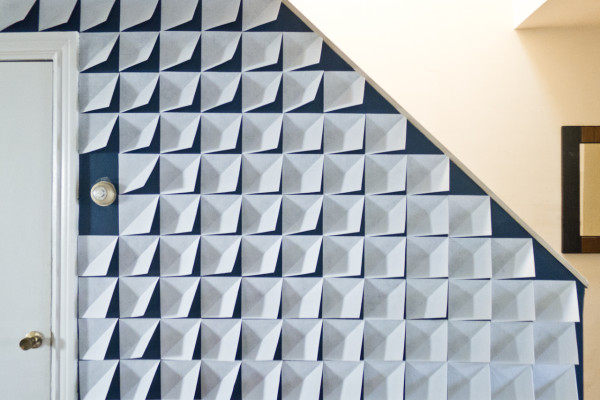 And that's really all it takes! A little patience is key, but it's easy enough to do on a cozy afternoon or as an evening project through the week. I'm already thinking about doing the wall around our bedroom windows, too.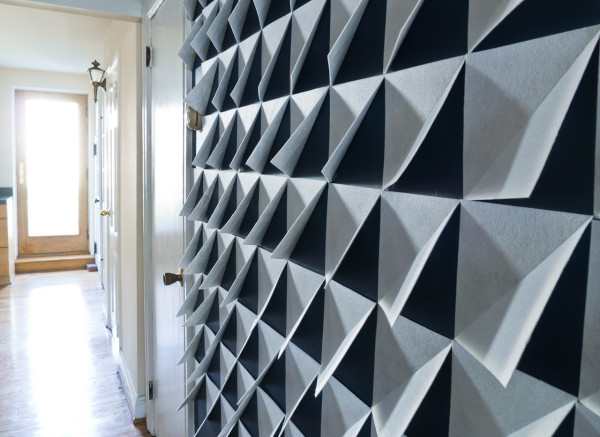 For a slightly different look, you could try thicker felt (or even corrugated cardboard), smaller squares, or even a slightly different shape or angle. I did mine on a colored accent wall, but for a more subtle style, doing the same project on a white wall would have a more minimalist and textural feel. We'd love to see what twists you come up with!

Design From Around The Web