This month, Bing challenged us to use the new Smart Search powered by Windows 8.1 to get inspired for our next DIY project. I'm always game for trying something new, so we decided to give it a shot.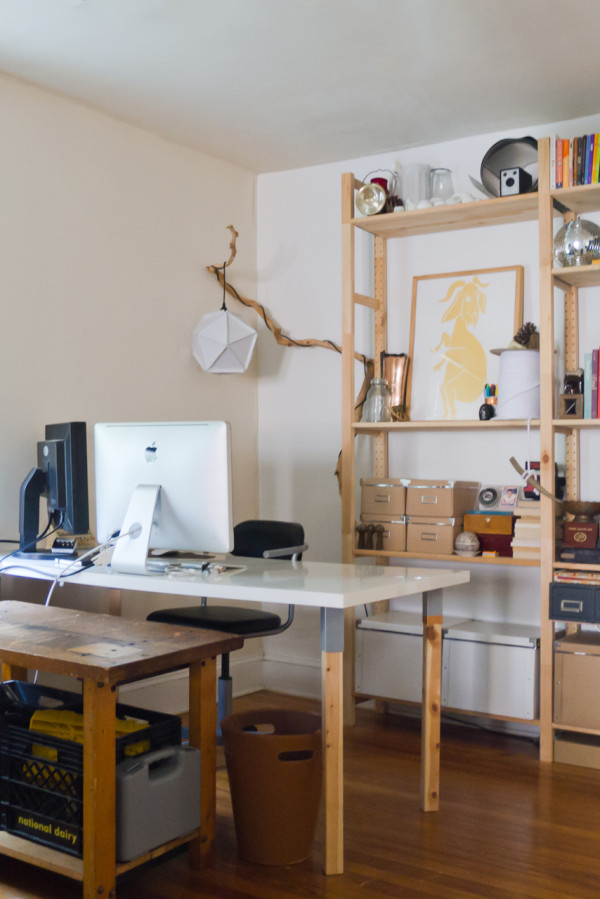 As it happened, I'd been looking for new ways to bring color into my home. Not too long ago, Caroline posted about artist Maya Hayuk and her over-the-top, graffiti-inspired work. I decided to start there.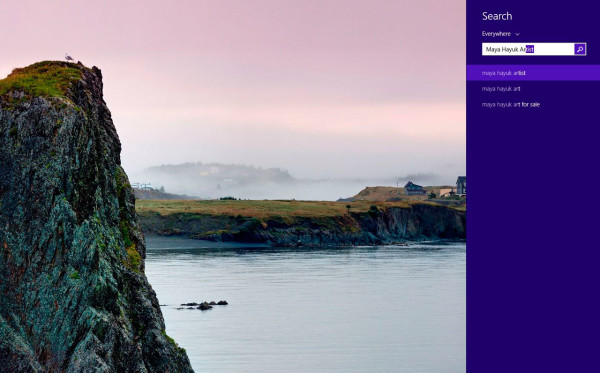 I entered Maya Hayuk into Bing Smart Search and after scrolling through the results, it seemed like there were way less repetitive images than I was used to seeing, which was nice – I was able to get a good scope of her body of work.
After recovering from the color-shock of the image results, I sat back and got to thinking. Drawing from all the different images, I first decided on a basic pattern: a sort of cross-hatched rainbow. I was really into all of the different color overlays, and after talking about it with Jaime, decided that strips of mylar colored with markers and overlaid in a cross-hatched pattern would be the way to go. Simple, quick, and accessible. For a bigger installation, I found this acetate alternative while browsing around Blick – the sheets that come around .015 thick would be great on a larger scale.
Since we were on a tight deadline and I had a pile of work through the week, I had to find the nearest place to get basic art supplies.
Back to Bing Smart Search. After a quick local search for art supplies, Artist and Craftsman was the closest place on the map, so I headed in that direction. Once I got into the store, I got a couple sheets of mylar—both frosted and clear—and then went to find me some Sharpies.
The color selection was a little overwhelming, so I turned to Bing image search on my phone. After a few minutes pulling colors and comparing the combinations to the image search, I decided on a group of 10 markers that would be evocative of Hayuk's work.
Once I got back to the house, I cut a pile of tiny strips from both sheets of mylar, colored each one with a different Sharpie, and began playing with color overlays until I got something that seemed about right.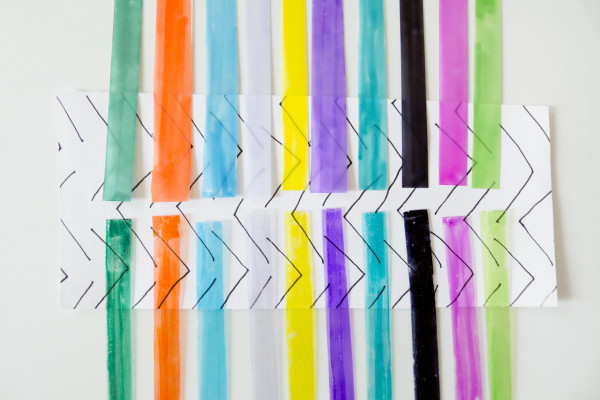 I cut the sheets of mylar down into large strips—about 24″ long x 1″ wide – and colored them in using long, broad strokes. I'll warn you: this can look a little streaky if you're not careful. It worked since I was looking for a similar visual texture to oil paint, but if you're looking for a flat wash, I'd probably suggest something like acrylic ink or professional markers like Copic.
Then, with the image search open in the background for reference, I began by taping different strips to the wall until I was happy with the arrangement. I pulled off the tape and secured the ends of each strip to the wall using a dab of rubber cement. (You read that right – rubber cement holds tight, dries quickly, and peels off easily in case I want to move or adjust the work.)
It was just the pop of color I needed to brighten up my workday.
As much as I liked the cross-hatching, after living with it for a bit, I decided I wanted to play around a bit more. (I also have a ton of art that I wanted to hang in my workspace.) Going back to Bing Smart Search, I started looking for something more specific.
Spot-on. I peeled the strips off the wall and tacked them into the shelf at one single point with a pushpin.
From there, I flayed the ends out, and taped them in place with a little bit of packing tape on the back of each strip.
Awesome! I was really happy with this result. It adds some oomph to my workspace, but I could still use the wall space to display my friends' work.
Since I hadn't played around with mylar like this before, I decided I wanted to try a couple more methods of using the colored strips. Using a similar method to the wall installation (packing tape and cross-hatching!) I tried it out in a frame.
For a more 3D look (hard to tell in the very 2D photo, I know) I arranged and taped the front strips on the outside of the glass, and the back strips on a larger piece of mylar that was inserted into the frame. This was definitely the easiest method of installation, since I could lay everything flat on a table as I was working.
The final installation I tried was in the window of our very dark and dull entryway, using the pin + packing tape method.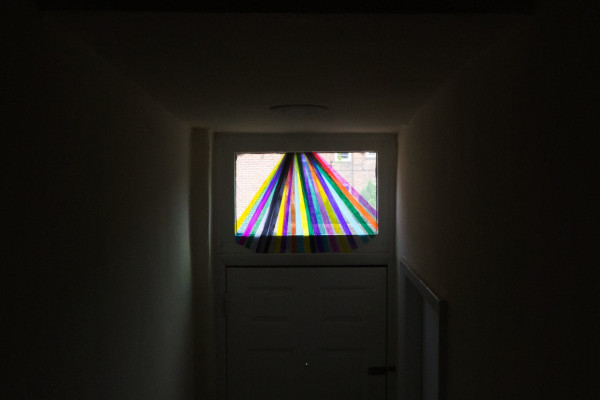 And that's where it lives for now! It's so welcoming seeing a little pop of color as soon as you walk in the door.
This post was created in partnership with Bing. With a type or a swipe you can search the web, the cloud, apps, and your PC or tablet, all in one place using Bing Smart Search on Windows 8.1.

Design From Around The Web