Robotic manufacturing has been an integral part in industrial and electronic assembly work for decades now. Your car, home appliances, computer, and even that Amazon package that landed on your doorstep this morning was probably handled by a robotic arm at one time. Now with recent improvements in sensory feedback and mechanical dexterity a new emerging category of robots are entering the market: collaborative robots.
The Makerarm is a 3-axis, articulating fabrication and assembly robotic arm with interchangeable tool heads for 3D printing, milling, soldering, plotting laser engraving, fabrication, assembly, and painting.
It's designed to be an all-in-one tool kit, with a large working surface area for assembly (15.7″ x 31.4″ x 10″). The 3D printing can be done using both filament and resin, and it's designed to be an extension for "most popular 3D design software", according to Markerarm founder, Zaib Husain.
The Makerarm is also dexterous; matched with specific attachments the designers demoed the robotic arm etching leather, opening an iPhone box and removing the phone, and even decorating a birthday cake. And yes, there's a claw attachment.
Impressively the versatile hardware is compact enough to occupy only a small corner of a work surface.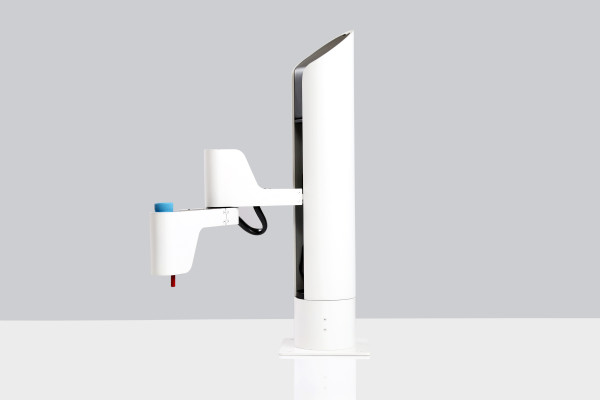 The Makerarm will also ship with a free browser-based control software that connects to Makerarm remotely via Wi-Fi through any device (smartphone, tablet or laptop/PC), with support for third party apps and custom scripting.
Early bird orders for $999 are all gone. You'll need to commit $1,399 over at the Makerarm Kickstarter if you want your very own robotic arm digital fabrication system, with your choice of any tool head and a one-year subscription to AUTODESK Fusion 360 for CAD, CAM, and CAE work with the aid of your future best friend.