Located in a quiet nature reserve near the Upper Seletar reservoir, the Mandai Courtyard House is a peaceful single-story bungalow that's not often seen on the island of Singapore. Atelier M + A met the owner's request to keep the home on one floor instead of building as large as they could go, which tends to be the norm.
Built around a central courtyard, the square doughnut-shaped house gives the privacy and security the owner longed for in the evenings while outside. The front part of the house opens up with floor-to-ceiling sliding glass doors to open up the living and dining rooms to the outdoors.
The narrow wood deck runs from end-to-end on the front part of the house to extend the interior to the outside.
The house is flooded with light due to the enormous glass panels on the front and courtyard areas of the house.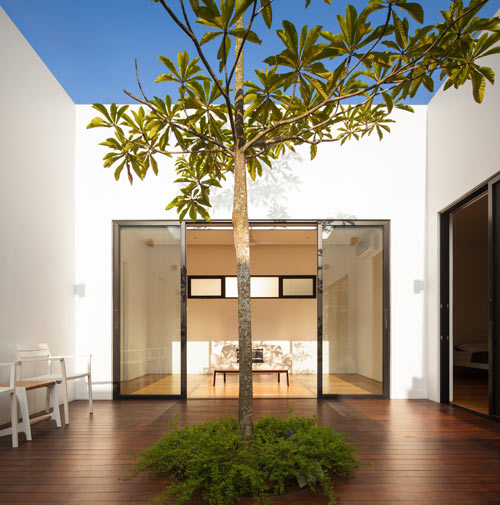 The courtyard
These stairs lead to the rooftop deck that's used for parties.

The rooftop deck
Photos by Robert Such.