In 2009, Thomas Wold partnered with Sheryl Drinkwater (architect) and Brad Charlstrom (contractor) to help a young family renovate their kitchen. The client had an unchanged ranch-style home from the 1950s located in Marin County.
Wold worked with the architect and homeowners on developing a new look and function of the kitchen, as well as fabricated and installed the new casework. What resulted was a signature Thomas Wold-style kitchen. If you've seen Wold's work before, then you know what I'm talking about.
The big island integrates seating so the room could be conducive to casual eating and socializing. Overall, the client wanted a youthful feel, so Wold settled on a soft palette of two solid colors to complement the uniformed Anegre veneers plus a neutral white CaesarStone counter. The yellow on the "office" cabinets is only seen in this area to note it's unique function. The area above the fridge is white opaque Plexiglass sliding doors cut with a laser jet.
The image above shows the peninsula section separating the kitchen and dining room. Originally there was a wall and door here. Wold designed the cooktop vent and Walter Mork Sheet Metal in Berkeley did the fabrication of the stainless steel. The team decided to not run upper cabinets and instead keep the two rooms feeling open and connected.
"As a trademark, I like to have a color punch in cabinets at times. There is always a lot planning and thought to make a kitchen useful and  efficient. Custom drawers punched up with a 'Tiffany' blue and gray rubber drawer bottoms," Wold says.
Pictured above are the cabinets prior to finishing in the studio. Anegre veneers pressed onto Apple plywood panels were used for all the fronts by Exotic Hardwoods in Oakland, CA. No veneer was required to hide the plywood edge, but instead, shows off the more premium substrate.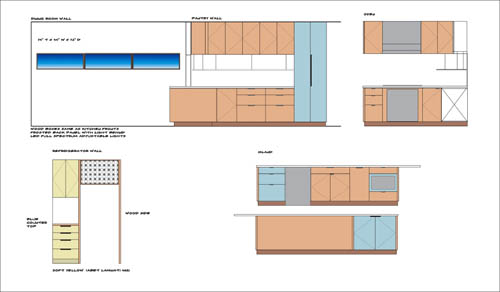 Kitchen Design: Thomas Wold Design
Architect: Sheryl Drinkwater
Contractor: Brad Charlestrom
Photography: Markham Johnson