Swiss watch manufacturer MB&F is known for their unique steam punkish catalog of horological devices (alongside a more sedate, yet handsome collection of legacy mechanical wrist watches). But it still comes as a surprise – even with Star Wars very much in the zeitgeist – to happen upon this trio of extremely limited edition science fiction film-inspired music boxes.
Citing their 10th anniversary and their company motto, "A creative adult is a child who survived", the latest of MusicMachines is fashioned after sci-fi spaceships. The MusicMachine 3 is the last the trilogy of MusicMachines and obviously inspired by the Star Wars TIE fighter. Limited to just 99 pieces – 33 pieces with white finish; 33 pieces with black finish; and 33 pieces with 'chrome' finish – the futuristic sculpture offers an additional feature: music.
The lattice-like vertical wings of the TIE fighter surrounds dual music cylinders, each capable of firing off three melodies: John Williams' Star Wars theme, Mission Impossible, and James Bond; from the right wing the themes from The Godfather, Merry Christmas Mr. Lawrence, and The Persuaders.
The music is powered by two independent movements mounted on the two tail sections. The side wings play a vital role in propagating sound vibrations down from the combs to the naturally amplifying resonant base, manufactured by JMC Lutherie.
Previous MusicMachine editions include a more general "spaceship" design –  this, the MusicMachine 1 – outfitted with two music cylinders for playback of the Star Wars theme, the Imperial March from The Empire Strikes Back, and the theme from Star Trek; the right cylinder plays back Pink Floyd's Another Brick in the Wall, Deep Purple's Smoke on the Water and John Lennon's Imagine.
The MusicMachine 2 should be recognizable to anyone who prefers the United Federation of Planets of Star Trek versus the Galactic Federation of Free Alliances of Star Wars.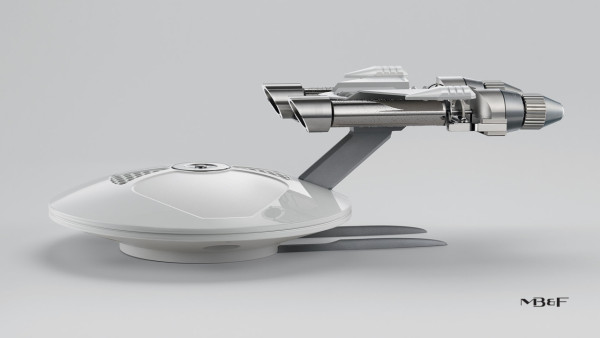 Those of especially geeky sci-fi spirit should recognize the inspiration of this most unique table clock. Designed by MB&F and engineered and crafted by L'Epée 1839, Switzerland's only remaining specialized high-end clock manufacturer since 1839, it's subjectively our favorite of this quartet of space vessel-inspired horological and musical devices.