Swarovski was in Milan to launch Atelier Swarovski Home, a new luxury home accessories brand. Its debut collection features collaborations with top designers including Daniel Libeskind, Ron Arad and the late Zaha Hadid, and saw crystal being combined with marble, metals and resins. We caught up with Ron Arad to find out more…
"Swarovski approached me to do something and I wasn't in the mood to do swans or vases, so I had the idea to do the alphabet," he told Design Milk. "I did some sketches, some modeling and some rendering and showed the idea to Nadia [Swarovski]. It took me a second to understand her very long face and then she said, 'Why didn't I think of that before?' I can't tell you what a difference Nadia Swarovski has made to that company. By involving fashion and artists, she has managed to take something that had a big sign above it saying 'kitsch' and make it cool."
"In keeping with that, I thought letters would be nice, and it would get me into designing a sort of font and typeface," he said. "Once you start getting into it, you start with the A and the A has a curved bit and a straight bit and then you think, 'Ok let's do the B now…' B also has a straight part and a smaller curve and by the time you get to the G you have a set of rules. We sent across very accurate 3D files and the first prototype that came back was pretty much spot on. It was very exciting."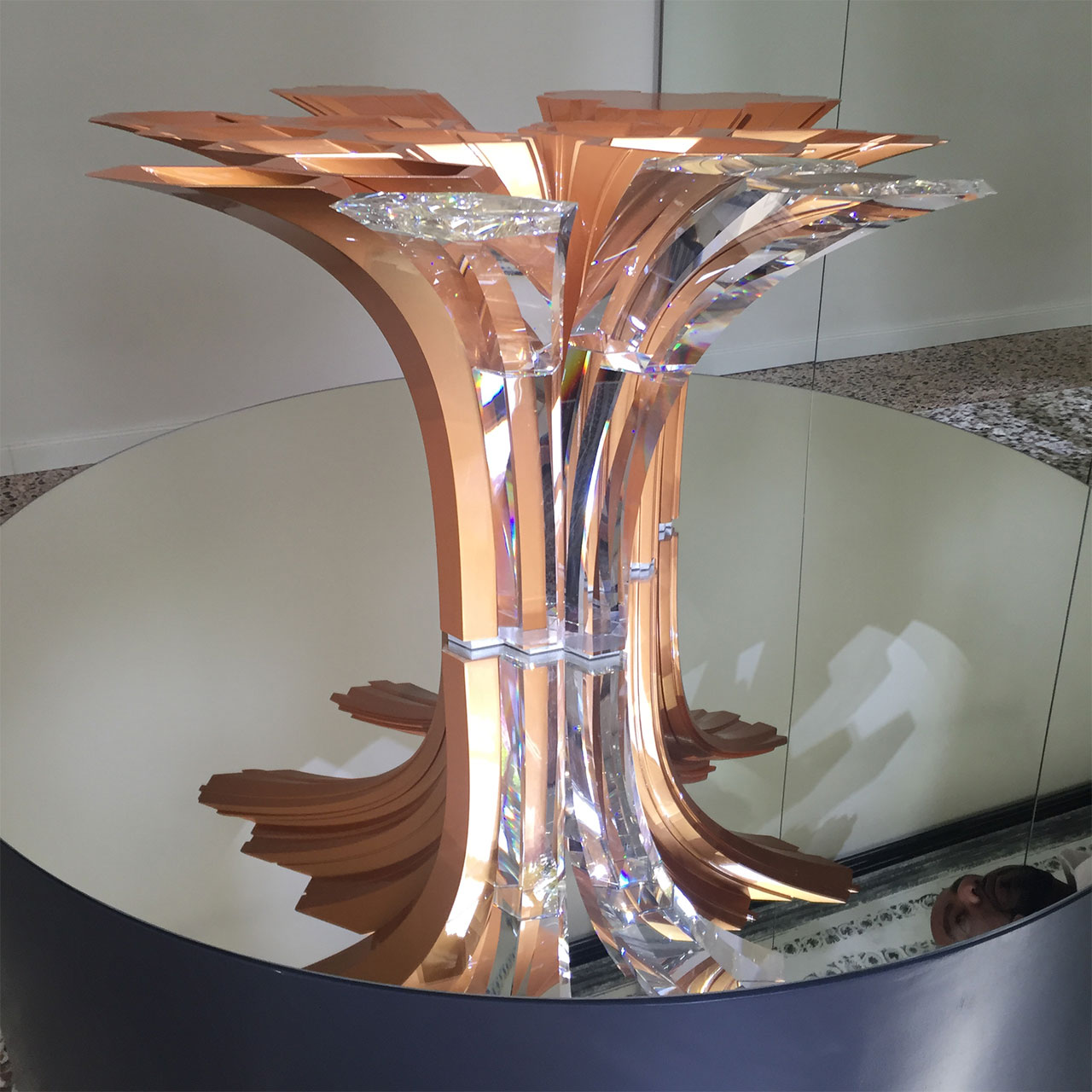 Alongside Ron Arad's alphabet, there was an imposing centerpiece in crystal and metal, by the Iraqi-born British architect Zaha Hadid, who died suddenly on 31 March 2016, making this one of her last commissions. "Taking as its starting point an investigation into the process of crystallization occurring in nature, the design is also notable for its use of Swarovski's new Wave Cut technology, which launches in 2016," says a statement from Swarovski. Hadid was the first woman and the first Muslim to receive the Pritzker Architecture Prize in 2004 and she received the Stirling Prize in 2010 and 2011.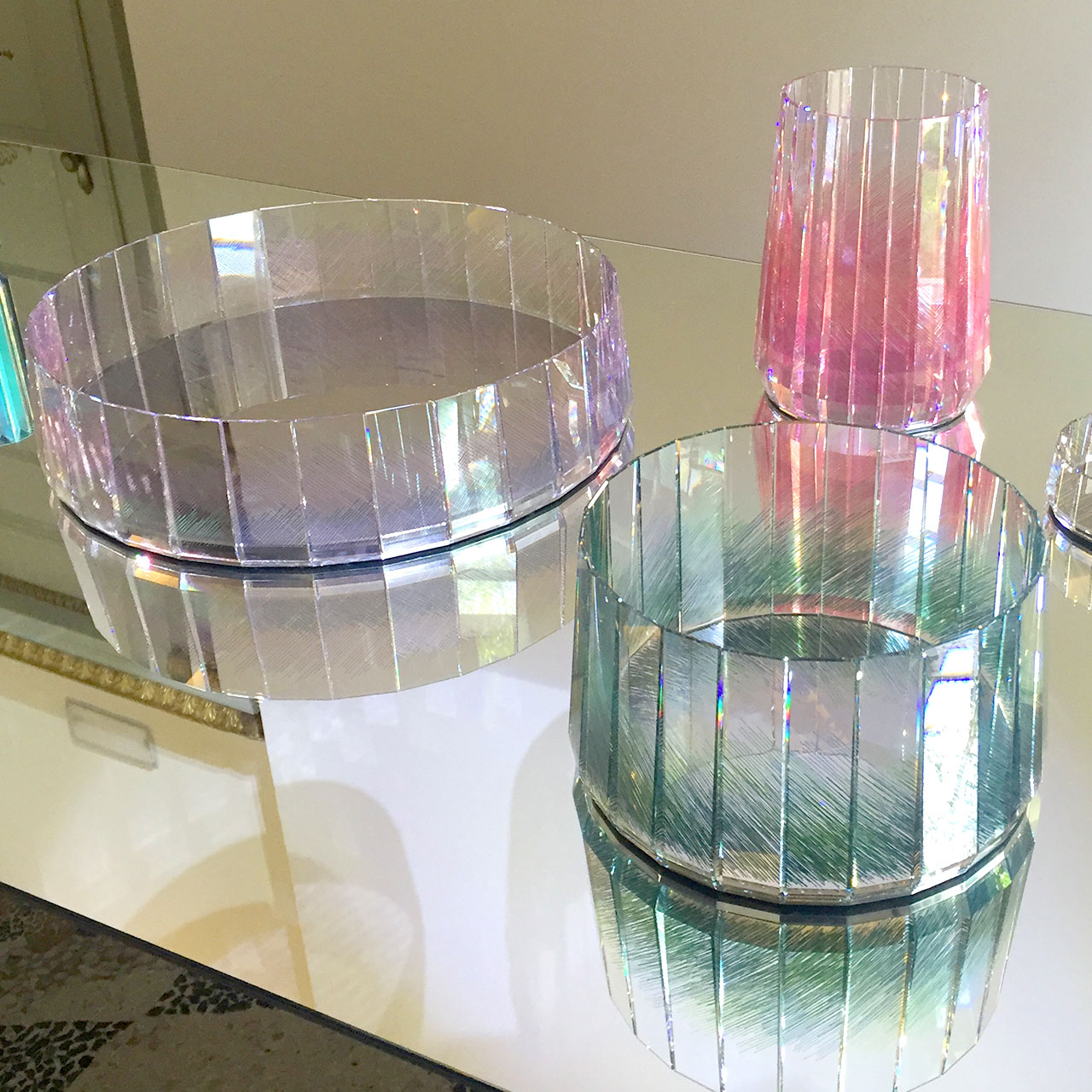 Raw Edges, founded by Tel Aviv born designers Yael Mer and Shay Alkalay in 2007, showcased their debut collaboration with Swarovski – using a new laser-jet crystal printing technique developed by the brand. "Layered prints on the interior of the objects produce colorful patterns, distorted and augmented by the crystal faceting," explained a statement from Swarovski. "When the crystals sit together, the reflections and layering reveal additional patterns of even greater richness."
Our favorite pieces, for their color alone, were the objects in Tomás Alonso's series – constructed from crystal prisms, bonded together using neon-colored UV adhesives, which flood the crystal with color from certain angles. Each tray has an inverted prism at its edge creating a functional lip for users to pick the piece up with.
Dutch designer Aldo Bakker presented three vases made of crystal and either grey or pink marble. "The base acts as a shallow water pool, and the sides are made of three interconnecting elements in either faceted marble or crystal, creating a fascinating play of light," said a statement from Swarovski. "Although functional, the design is ambiguous and abstract, allowing the user to feel and play with the way one element fits with another."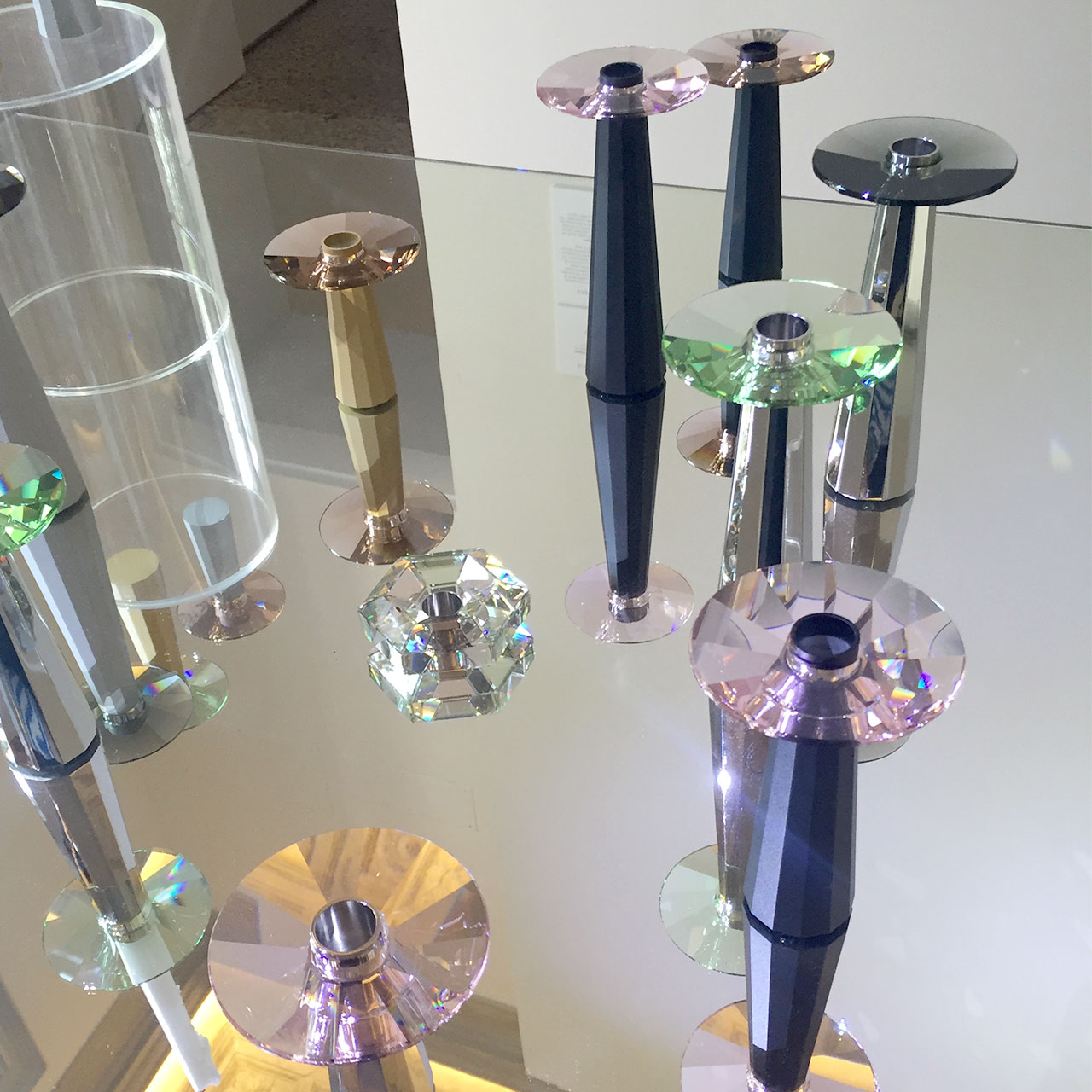 Kim Thomé's Plinth comprises a heavy stainless steel base in a variety of heights, on which sits a crystal 'halo', while his Donut is a palm-sized candle holder made of six crystals bonded together with UV glue. The collection is available in a number of different color effects and finishes.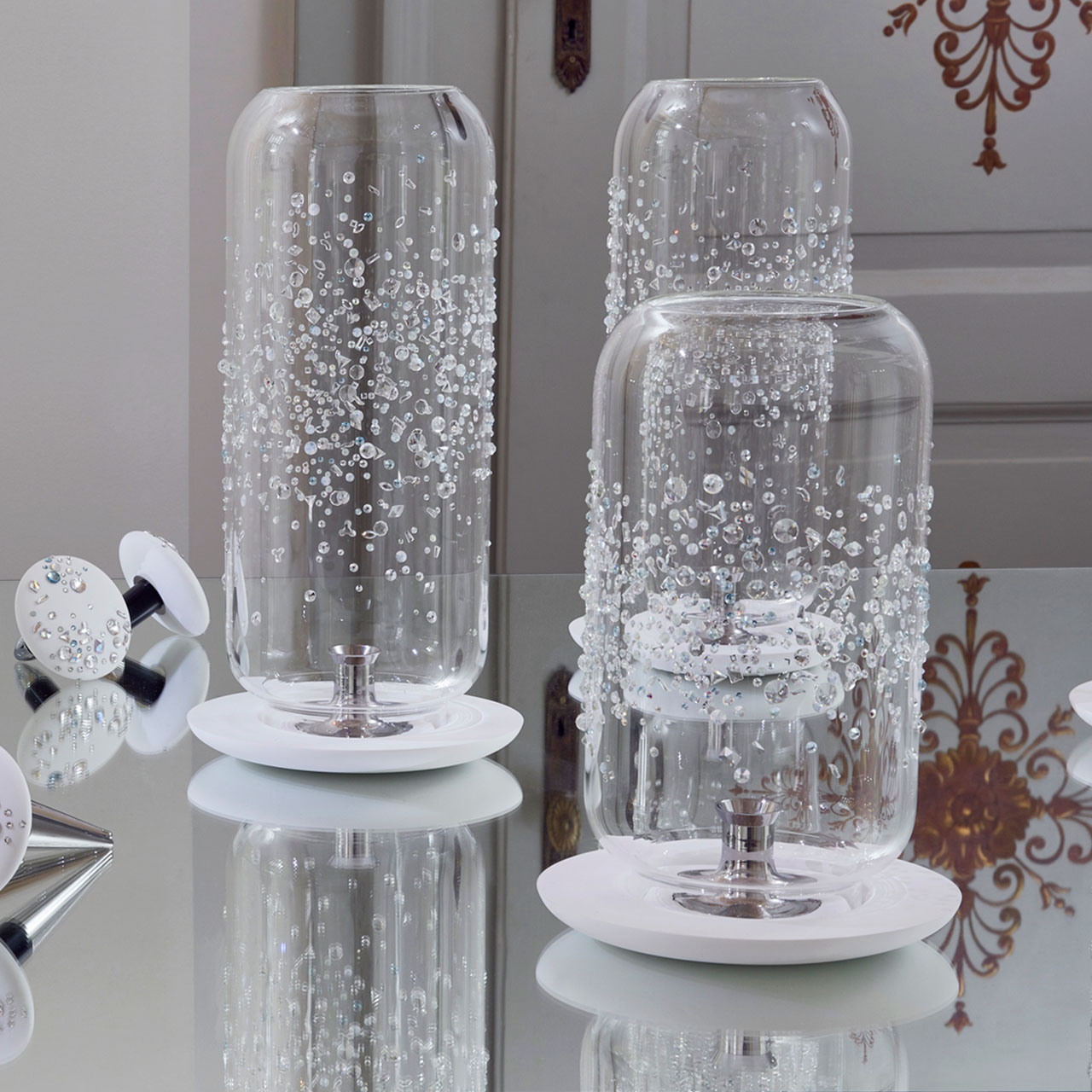 London-based Dutch designer Tord Boontje presented a series of oval and spherical vessels made of glass, Corian and crystal. Crystals scattered over the polished surfaces reference star formations and space photography.