Evan Cincotta created the High-rise Hanging Family for the desk, which brings desk organization to a whole new level. It has different modular bins for storage, a cable organizer, hooks, magnetic bars and mobile docks for all your electronics.
Brendan Babiarz created Branch Holder, a desk accessory that holds all your everyday items, from coats to bags, keys to headphones.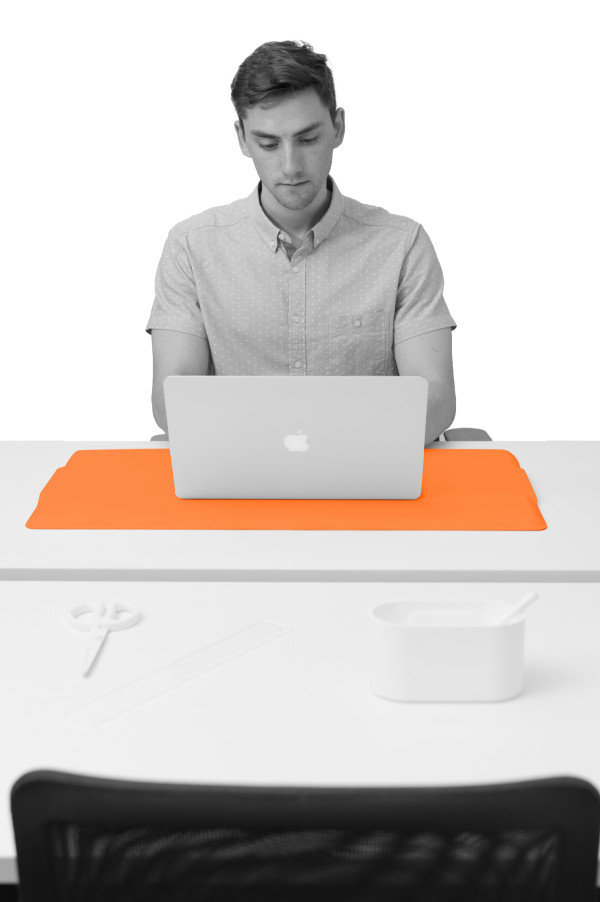 The Booster Desk, by Tristan Cannan, is a spin on the standing desk that's affordable and functional for smaller companies. It's an option that can transition from sitting to standing easily.
Yuting Dong created a lounge accessory named Box Seat 2.0, a colorful ottoman that acts as both storage and a table with a flat surface for writing.
The Pyramid Messenger is a geometrical messaging device that can be written on with any message you choose, designed by Sandro Hatibovic.
Sticky notes lovers will love the Sticky Note Ball, a polyhedron with 12 pentagonal faces that is a pad of sticky notes for multipurpose use. Designed by Afifi Ishak, it acts as a sculptural desk accessory and memo pad.
Kasia Kosak created Recycling System, a sleekly designed recycling bin with a cutout opening indicating what kind of waste can be recycled.
Veronica Lin designed Foot Pebble to engage the feet in a playful dialogue, while also elevating it for ergonomics.
The Extruded Universal Holder, by Kyle Laidlaw, is a desk accessory that organizes all your notebooks and electronics, keeping your desk and mind clean.
Munch Mat Takeout Bag, designed by Danielle Marino, is a reusable lunch bag that also acts as a sort of placemat for your desk, keeping your workspace clean. Easy to wipe clean and can be machine washed.
Emily Moore created an easy way to keep your belongings off the ground with Task Chair Overhanger.
Divider Storage Caddy is a flexible shelving system that can be put on top of the Poppin Wall Divider and hold essential tools. Designed by Christopher Munoz, it also work as a file sorter.
Dylan Panarra created The Sidenote, which gives more functionality to the office chair by adding even more storage to it.
Kayla Rakower designed a series of lattice storage units, aptly named Lattice Storage, that adds personality to the office, and can be set together in different configurations.
Poppin Power, designed by Stephanie Saucier, is a small but powerful product that makes powering your devices more convenient. It pairs perfectly with Poppin's Medium Accessory Tray, and has space for any USBs or cords to stream through.
Similar to the Russian Nesting Doll, the Nesting Cup and Carafe Set by Sara Schult is a set of four stacking cups and a water pitcher that reduces the waste from disposable water cups with a bright pop of color.
Who likes boring old partitions? Jordan Stemper doesn't, so he created the Connect Office Gaming Partition, a way to take a mental break, have a quick match with your neighbor, and recharge.
Elizabeth Talamo created the Cable Hideaway 2.0 a simple yet aesthetically pleasing way to keep cords organized.
Lap Topper, designed by Koby Trout, is a mini-desk that helps you work anywhere you want, without stopping your workflow.
Maxwell Whitehead created a Privacy Screen that helps give team members a moment of quiet in open office environments. It offers a way to subtly let coworkers know when one needs some privacy.
Under Shelf, by Ethan Young, is a diminutive shelf that maximizes space under the Poppin Desk, perfect to hold all small effects.
Linghua Zhu combined a phone docking station with a cup to holds all pens and knickknacks laying around on the desk.