MG+BW Tap Eskayel to Release Their First Wallpaper Collection
MG+BW Tap Eskayel to Release Their First Wallpaper Collection
1/21 Photos
2/21 Photos
3/21 Photos
4/21 Photos
5/21 Photos
6/21 Photos
7/21 Photos
8/21 Photos
9/21 Photos
10/21 Photos
11/21 Photos
12/21 Photos
13/21 Photos
14/21 Photos
15/21 Photos
16/21 Photos
17/21 Photos
18/21 Photos
19/21 Photos
20/21 Photos
21/21 Photos
American-made furniture brand Mitchell Gold + Bob Williams has teamed up with Founder and Creative Director of Brooklyn-based textile brand Eskayel, Shanan Campanaro, to release their first line of wallpaper. For this collection, she created six patterns that lean towards the lighter side of classic motifs and Americana. Campanaro drew from her love of travel and the outdoors when creating the watercolor paintings that would become the collection. Her unique patterns were then turned into wallpaper using eco-friendly production techniques, something very important to both brands.
The six patterns that make up the wallpaper collection – Bandanarama, Dogwood Dream, Mod Mural, Neighbors, Pen Stripe, and Topiary – are effortless with a laidback vibe. Bandanarama was inspired by the West and Dogwood Dream by the South. Mod Mural celebrates the 70s and modernism, Neighbors celebrates cities with its windows and buildings, and Pen Stripe has the feel of a classic suit. Lastly, Topiary is based on Shanan's own house plants. Each design is available in a range with between three and five color options: Birch, Indigo, Spruce, Shell, and Flax. Instantly elevate your space with any one of these fresh patterns.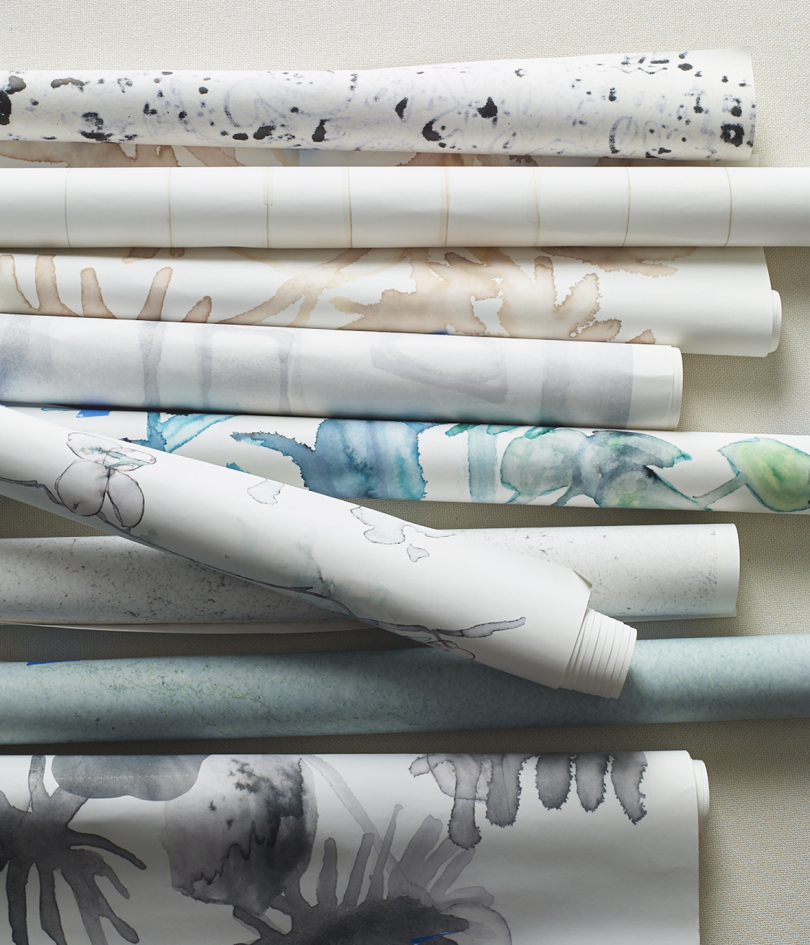 To learn more about the Eskayel x MG+BW Wallpaper Collection, visit mgbwhome.com.