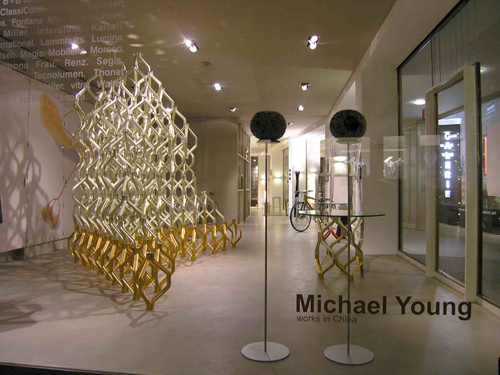 The furnishing shop "designfunktion" shows Michael Young's latest products for the first time outside of Asia, at Vienna Design Week, October 1-11, 2009.
Michael Young's exhibition, called "Works in China," shows products that were developed during his time in Hong Kong and include the Zipte Link Installation, which premiered during the Hong Kong International Art Fair 2009.
"Zipte Link" is not only an intelligent high-tech product, but as an artful installation also represents the connection of modern design and technical abilities of the local industry, in this case Chinese. Rising from the momentum of collaboration with Chinese industrialists, the Zipte Link System captures the strengthening ties between local industry and design, and exemplifies the skills of Asia industry and manufacturing. Young sees the work not as Design Art but as Industrial Art where some of the highest levels of manufacturing have been employed to experiment with typologies and the creative relationships between individual and industry.
A special edition paper table, Rust-AY, is also on display. It is created with an ancient paper-folding technique — each piece is hand folded and then slotted into its neighbor to create a self-supporting structure. The Rust-AY table alone comprises over 4000 pieces of folded paper.
Also on show is the preview of Chair 4A, an aluminium cafe chair that will be unveiled fully in early 2010, pictured above.
The Carbon Coen Chair for DD-3 is also part of the exhibition, displayed atop a limited edition Carbon Zipte Link Table.

Design From Around The Web