Microsoft's October 2019 Event delivered a slew of updates to their Surface line of touch-enabled computing devices, including an updated Surface Laptop 3 (with a choice of 13.5" or 15" display and new colors and finishes), Surface Pro 7, and Surface Pro X – each an evolutionary iteration of Microsoft hardware. But with these expected announcements came some surprises more than hinting at Microsoft's commitment to pushing the limits of the Windows experience: a dual-screen, Android-powered mobile device aptly named the Surface Duo, alongside the dual-screen, tablet-style "phone", the Surface Neo.
The Surface Neo is something between a tablet and a laptop, outfitted with a dual-screen layout optimized for Windows 10X, a new flavor of Windows 10 written to take advantage of two screen devices. In this case it's the Neo's two 9" screens, equipped to adapt from a full-size 13" LCD display into a quasi-laptop form factor with the attachment of a removable magnetic keyboard (of course, it's also compatible with the Surface Pen and Surface Bluetooth mouse).
Microsoft's hardware team engineered a 360-degree full-friction hinge to give their dual-tablet form factor its two screen capabilities. The most curious and intriguing productivity feature is offered while the magnetically attachable keyboard sits partially atop of the second LCD display and lowered over the touchpad, complementing the keyboard as a secondary screen ("wonderbar") not unlike a supersized version of Apple's TouchBar.
The Surface Duo is also a dual screen mobile device, but one scaled down to fit into the pocket. Unlike the still very-much-in-beta, dual screen phones from the likes of Samsung, the Surface Duo merges two 5.6-inch screens with a visible, but handsomely executed with a hardware hinge. Unfolded, the two screens convert into an 8.3 inch tablet form factor, all without the concerns of a delicate seam. The Duo also operates on Windows 10X and Android, with Surface Pen compatibility baked in.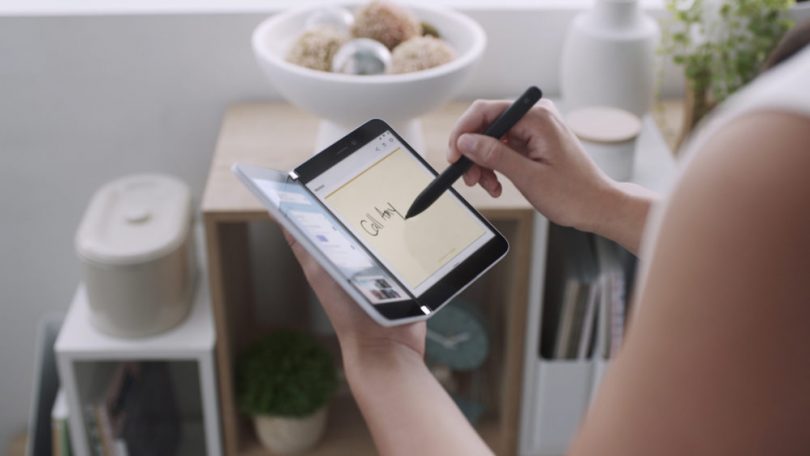 Both the Surface Duo and Surface Neo unfortunately won't be available until the holiday season of 2020, a year's wait for two devices that have whet the appetite amongst those smitten with the promise of doubling their workspace on the go [raises hand].