Barcelona-based Gidlööf Originals is a furniture design company that was launched by architect studio Costacalsamiglia in 2012. They exhibited their extended collection at the Stockholm Furniture Fair.
The name comes from the shop Gidlööf, which was opened in May of 2011 by architect Guim Costa and her partner Sofia Gidlööf in Barcelona. The shop sells mainly furniture from the 40s-60s, and you can see a lot of inspiration for these pieces from those eras. Using natural materials like chestnut wood, black iron, leather, cotton and brass, as well a simple finishes like water- and wax-based paints evoke a feeling of sustainability and quality.
The original collection:
Arne armchair is a simple armchair with clean lines made of solid chestnut, along with cotton and leather that hold the seat cushion in place.
Norensen is a chair that has beautiful back legs and sits on two simple brass legs in the front. It's made of chestnut wood.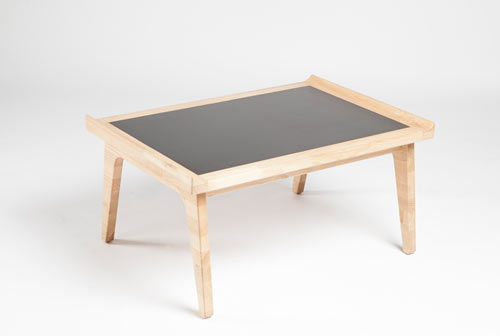 Rits table can be a coffee or side table and is made of chestnut on all sides with a center of black phenolic resins.
These are the newer pieces:
Emmsen trolley is a table that complements the Rits table also made of chestnut and black phenolics. The wheels are almost totally hidden but it does move around like a trolley should. Plus, you can remove the center part and use it as a tray.
Helenbro lamp is a simple chestnut lamp with a very minimalist design. The back is really cool because you can see the cord running down a hollow recess in the wood – a nice detail.
Tiagosen is a wall-mounted support piece for mobile phones that also holds your charger. Cute!
You can purchase these pieces through the showroom in the Gidlööf store in Barcelona or through their website.