In a shaded courtyard in a corner of Milan, a gentle breeze and quiet music welcomed the weary Milan Design Week visitor to stop for a while, recharge and take in some Danish craft. The exhibition was entitled MINDCRAFT18. "The Danish crafts and design scene is very strong right now," says curator Ditte Hammerstrøm. "The participants I have selected are among the very best in their field and able to produce site-specific works for the exhibition venue. They all employ an experimental process and take a unique approach to their materials. As a group, they represent the high level of diversity, innovation and quality that characterizes Danish crafts and design."
'Sakyu' (Japanese for 'sand dune') is a pine bench shaped by a CNC (computer numerically controlled) milling machine and hand-finished with Japanese planers and scrapers. "The wavy pattern is based on sine curves, which can be calculated mathematically and are found throughout nature," says its designer Rasmus Fenhann. "The pattern creates an interesting interplay of light and shade and is reminiscent of the lines made by the waves on a sandy beach or by the wind sweeping the large sand dunes in the Sahara Desert."
The Botanical Furniture Series incorporates silver-plated brass mirrors set into a wooden frame to reflect their weather and surroundings – in this case, blue sky above an Italian courtyard. The pieces were designed by Lisa Bjerre Schmidt and Sofie Trier Mørk of Wednesday Architecture.
A Family is a series of objects that each turns around a central brass rod hanging from a thread – every one shaped by rotary reduction or addition, using a range of techniques from turning and casting to binding – by furniture designer Kasper Kjeldgaard.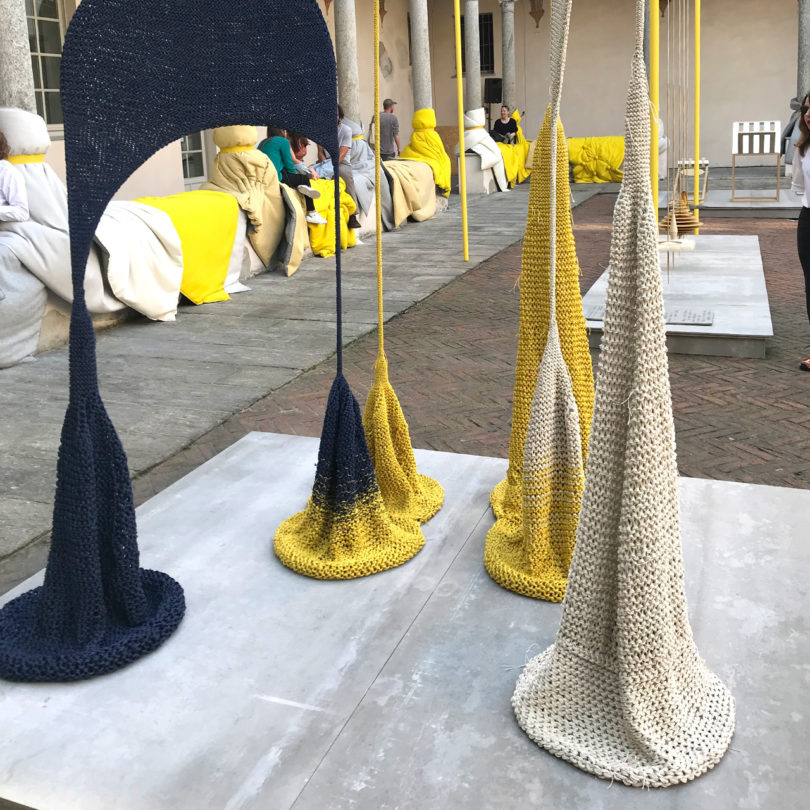 Dissolved Into The Fabric is a hand-knitted sculpture by textile artist Isabel Berglund. Each piece is made with large and small stitches incorporating added lengths of waxed cotton string and hiding an internal metal frame.
Gitte Jungersen is the ceramicist behind All Is Flux, two objects made of a combination of black-blue ceramic glazes poured into a rectangular mold, heated to 1280 degrees so the glazes boil and bubble, and then quickly cooled to capture the form. "Different minerals in the glazes react differently to the temperature changes, creating a new compound material with a complex tactility," says Gitte.
Half Pieces by sculptor and designer Carl Emil Jacobsen comprises six objects hand-molded from fiber-reinforced concrete around a central core of polystyrene and steel. The pieces are then painted with pigments extracted from cliffs of Danish island Mors.
LMA ('Lick My Ass') is a chair by artist-designer partnership Pettersen & Hein, known for their explorations of the boundaries between art and design. They describe this piece as a 'chair sculpture' and it is made of cast pigment-dyed concrete, iron and aluminum pieces which lock together like toy building blocks.
'Field of Flowers (Long Winter Poem)' by Louise Campbell is made from lino paper she printed by hand, which she then cut, folded and assembled – all by hand. Its water-resistant finish happily wasn't put to the test by the Milanese weather.
Architect Kevin Hviid's Billy bench was inspired by a cactus and incorporates a two-person seat on each side, providing seating for four, and is made from wood and TIG-welded steel.
Aurora Borealis by knit designer Iben Høj is a knitted sculpture suspended from a flexible acrylic rod to maximize its movement in the breeze – it even includes glow-in-the-dark fibers so that it lives up to its name at night.