British futures agency FranklinTill and experimental Dutch design collective Dutch Invertuals teamed up to create Mutant Matter, an exhibition exploring the future material potential of waste streams – driven by the understanding that we have entered the era of the 'Antropocene' when human-made materials and processes have become irreversibly intertwined with those from the natural world. "Geologically speaking, the fruits of the Anthropocene are yet to be witnessed," says Caroline Till. "However, the acceleration of human industry has already made permanent changes to the planet, to the point that artificial geological phenomena are being documented worldwide. As a result, designers are beginning to consider not only the complications caused by these vast ecological changes but also the potential."
Ten designers presented concepts that ranged from new materials and re-evaluations of old ones to experiments with recycled objects and repurposed waste streams and entirely new ways of making and thinking about design. "Radical Matter inspires us to observe the drastic evolution of materials," said Dutch Invertuals founder Wendy Plomp ahead of the collective's 18th appearance at Milan Design Week. "For Milan, we offer our joint vision on a small chapter of this broad and socially involved topic. By envisaging and questioning material innovation we hope to make a real difference on a deeper level."
Design Academy Eindhoven graduate Thomas Ballouhey presented the Dispenser Light, which combines new material technologies with primitive making techniques and a static 'on-grid' unit with agile solar-powered parts. "In creating the extruded aluminum frame, I have deliberately moved away from any formal method of construction," says the designer.
Onno Adriaanse is based in Eindhoven and founded his eponymous studio in 2016 after graduating from the Design Academy Eindhoven. His Antithesis Table challenges perceptions of 'soft' and 'fragile' materials in order to broaden our understanding of their application.
"I am interested in matter that will not be able to exist in the future," says Théophile Blandet. "Plastic has been celebrated as the miracle material for modern manufacturing, however, due to its environmental impact, I believe we will shortly ban its production." P.S. is Théophile's attempt to reposition plastic as ivory, gathering and celebrating it even in its waste form.
Multidisciplinary designer Fransje Gimbrère created Thrum for the exhibition. 'Thrums' are warp threads left over on the loom after weaving is complete, and Fransje has taken inspiration from these to change the way matter is perceived. "I create work that people want to touch, experience or interact with," she says. Her woven architectural sculptures "engineer contrast between the rigid woven grid and the soft flowy fringes… exploring and expanding our definitions of material properties."
Future Remnants by Xandra Van Der Eijk explores the impact of human influence on the changing development of mineral formation. "I have created a series of material experiments combining commonly used metals with widely available household solutions, observing the transformation of matter and creation of new minerals through decay," says the designer. "The project aims to convey that the surge in mineral diversity over the past fifty years can be attributed to human activity."
Fleur Hulleman's Touchables invite tactile discovery as an antidote to our increasingly screen-based lives. "My aim is to create sensorial discovery, to achieve the power of color, material and texture, and to satisfy our inherent desire for tactility," she says. This collection of material forms encompasses visual and textural contrast to create a more sensual relationship with the objects around us.
ZwartFrame is an Utrecht based collective of five artists and designers, who created Conflict – a new production process that enables material to form itself. "We want to investigate how designers can exploit the inherent material behavior to engineer new mutant matter, demonstrating the extremities of material properties for the creation of new artifacts," they say.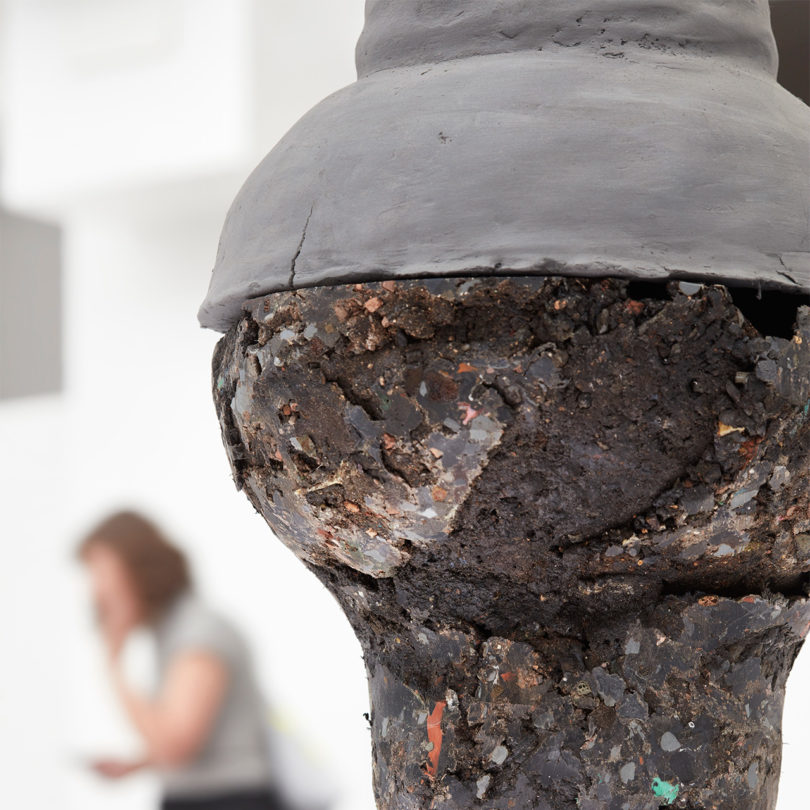 Shahar Livne's Metamorphism: Yulem is an 'alter' made from clay combined with Lithoplast, a new composite material developed by the designer from discarded plastic, stone waste from coal mining and marble dust from masonry. "These alters are the physical juxtaposition of old and new: new and mutated matter," she says.