This is all I can show you of my garden wall. The embarrassingly sparse, white, windowless stucco back wall of my 60s modern box house has sat there patiently, silently asking for some adornment. But what to do? I've been in search of the perfect addition to the blank garden wall for five years now. For this month's MilkWeed column, I've come up with three finalists for how to dress up a blank garden wall. Design ideas that with just minimal intervention and a small budget could be added to your own abode. It's a toss up for my favorite. What's your preference? Perhaps I just need a little color like this wall I found in Silver Lake, California.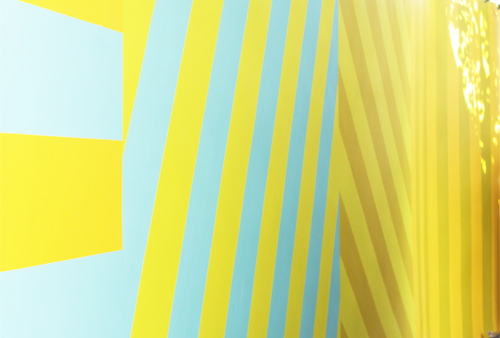 A few cans of paint can entirely transform a space as illustrated in this wall mural designed by Siobhan Burke of Lyric Design & Planning. A 13'x44′ wide wall abruptly borders the entire back of a hillside home. Imposing on the owner's outdoor space (as it is only 13′ from the first floor), Burke designed large scale patterns to break up the wall and frame different segments of it from interior windows. Inspired by Josef Albers color theory, she chose four colors for the design inspired by Sol LeWitt (see her replicated model in the photograph below) and masterfully worked with diagonal color pairings.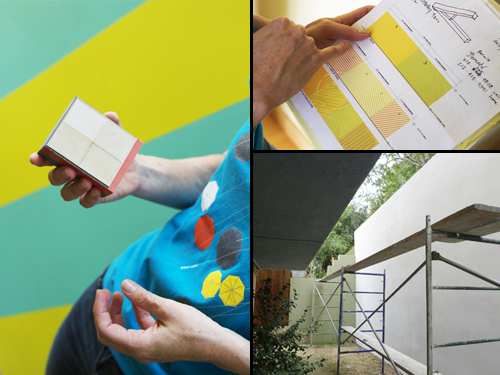 The one-foot diagonal stripes break up the long wall and create references to smaller "rooms" in the garden and inside the house.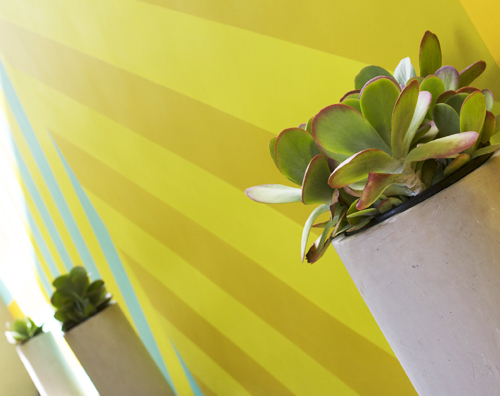 Simple planters and larger succulents create a dynamic statment in small vignettes. Because of the narrow space, the wall cannot be seen (or photographed!) in its entirety – but in moving alongside it, your eye draws together the patterns. The overall effect is extremely harmonious.
The bold colors provide a warm backdrop any time of the day for the home's interior – and the reflections pop up inside where you least expect to see some hue.
My second garden wall solution was found nearby my home at the KnowHow Shop LA. The studio is a "cooperative fabrication and design shop" owned by three entrepreneurial architects. Participating in the NELA Art Walk, the shop hosted an open studio garden show this summer where they debuted garden wall barnacles. Yes. WALL BARNACLES.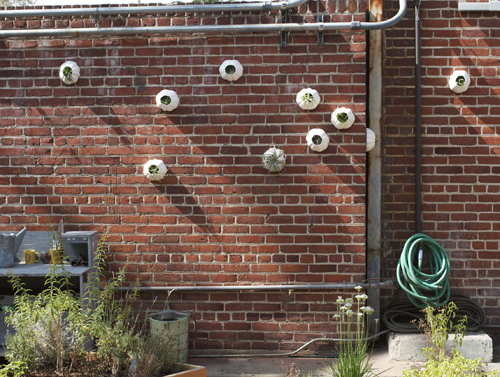 You don't need to live seaside to bring a little nautical flair to your backyard. Made out of matte white clay and glazed a gorgeous kelly green on the inside, the barnacles can be mounted to any vertical surface. They instantly give relief to a flat wall, and you can have fun playing with composition. My favorite part is how they are designed to be filled with low-maintenance air plants (perfect for me as one of my other hats is growing air plants), a little dirt and some succulents, or even left empty.
The only problem is the barnacles are seriously addictive. The addition of one leads to another, to another, to…I can only imagine how amazing it would be to plaster almost a whole wall with them like this. My budget might be blown but at least I could hold all my air plants.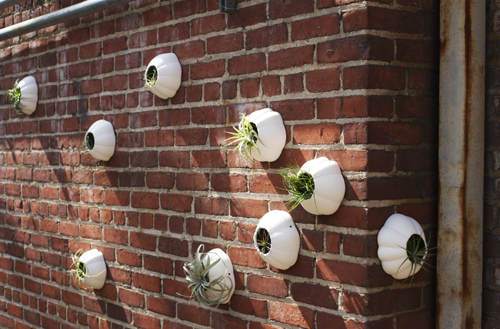 Alas, applying a thousand barnacles to a wall at home might be a tad too obsessive, but I love the idea of adding more plants to my blank wall. Living in California, a year-round vertical garden is not out of the question (I've been lusting after Woolly Pockets as a solution for a while now) but I'd like something more customizable. When I saw this wall treatment at a nearby salon in LA, I knew I had my third option.
It can best be described as "vertical garden wallpaper" – waterproofing, felt insulation and an outer mesh is layered on a exterior facade and sidewall. Small incisions are made in the outer two layers to form pouches. Insert a small amount of dirt and a plant. Done.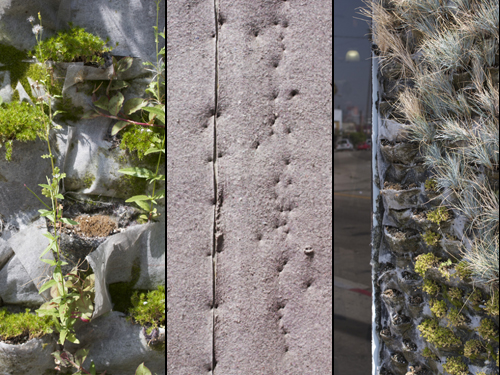 The plantings create a wonderful and unexpected fuzzy feeling to the wall's surface. The plant varieties were placed in the pouches in almost vertical undulating waves so the textures and colors intertwine across the wall, turning the corner and consuming other utilitarian items necessary on the wall.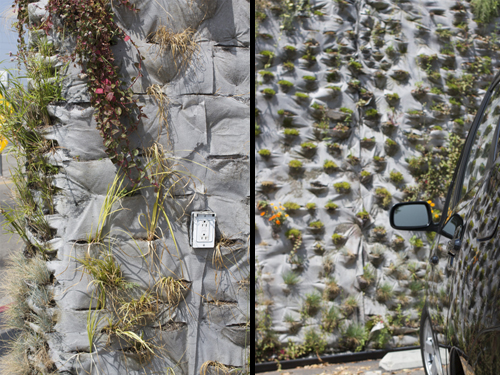 This wall is certainly not maintenance free as it appears to have an elaborate drip irrigation system, and some of the plants have since died after planting. But the positives of this solution seem to be the mishaps, the occasional weed, the lifecycle clearly evident in the construction of the wall itself. Like your garden or anything you place outside, it's bound to change over time for better or for worse; a continually changing palette.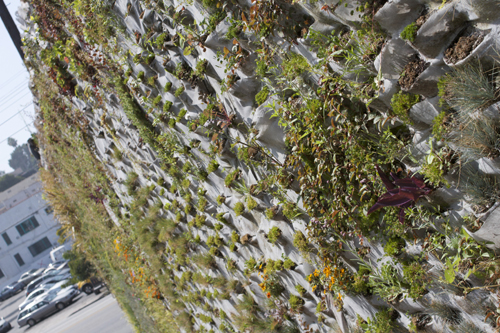 With Fall's cooler temps arriving, now is the perfect time to start just one project – just one wall – in your backyard. I'll be finally making my move…if I can just make up my mind.