Editor's note: Please welcome our newest contributor, Britton Neubacher of Tend. She is "a social justice activist turned certified plant geek." Her monthly column, MilkWeed, will focus on how to incorporate modern plants in and around your home, garden trends and more. Learn more about Britton on our About page.

Photo: Eames (Gloria Koenig; 2005)
Ever walk into one of those places where everything is perfect; the architecture, the furniture, the art, even the resident dog looks manufactured for this space…but something is clearly, eerily missing? You can't quite put your finger on it but it's almost like a pulse is absent, some palpable expression of life. It's beautiful but not inviting. It's cold. You want to look but not touch nor kick your shoes off and cozy in? This, my friends, is what I refer to as the architectural undead. Where everything acts alive but does not have a heartbeat or lungs to breathe. Well, I'm tired of modern design bring associated with the cold and austere. Mid-century modern understood the need for green (thus my liberal use of vintage interior design pix — so yummy!). Contemporary modern design not so much (as proven by my exhaustive search for current day plantscaping examples ending in a return to said good ol' days). I say we unearth those wise roots, roll up the sleeves and invite a little friendly dirt in. Together we will be the plantscaper-capers fearlessly bringing life back into the spaces that are inhabited but do not breathe!

Photo: Eames (Gloria Koenig; 2005)

When it came to the importance of green, the Eameses "got it" (and got just about everything else, too).

Photo: Eichler: Modernism Rebuilds the American Dream (2002)

The Case Study Houses were big on nature's role in softening industrial materials.

Photo: The House Book (1974)
How cozy is the use of texture in this room? Platner and Saarinen pieces mixed with ferns, colorful textiles and pottery = a room I want to be in.

Photo: The House Book (1974)
A wall of green not only softens the hardness of this furniture but creates a sanctuary-like atmosphere. There are so many styles going on in this room but don't you think the plants help combat the confusion?

Photo: The House Book (1974)
Focal plants are a must, especially in large open spaces where they bring drama and intimacy.

Photo: Better Homes and Gardens Decorating (1975)
Ok, so I'm not totally feeling the big drooping flowers but I'm definitely loving the mass of dracaena trees that provide dramatic height and exciting lines (even in a smaller space like this).  Graphic, earthy textiles add further warmth and interest.

Photo: Scott Caligure for Tend
Even when contained in glass, plants bring a refreshing pop of life.

Photo: Scott Caligure for Tend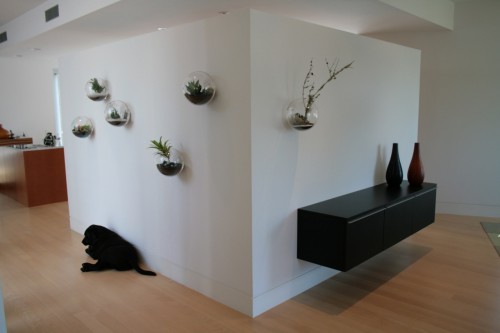 Photo: Scott Caligure for Tend
It's fun to play with rhythm when plantscaping, which is created by repetition. And employing some slight variance helps reduce randomness. Line up 3 to 5 pots in a row, evenly spaced. This can also be achieved by using the same plant or varietals of the same plant, grouped together. I like to group things in odd numbers but that's just me.

Photo: Better Homes and Gardens Decorating (1975)
When it comes to shades of green, nature is the ultimate mix master. Green occupies more space in the visible spectrum than any other color, it is the most dominate color in the natural world but is also a neutral color, meaning, you technically cannot clash the green of your greens. But if you want to geek out a little, group greens by warm (deep shades such as red, pink, and purple) or cool tones (lighter shades like gray-green tints or white variegation). Or do a simple combo, as in the photo above.

Photo: Complete Home Decorating (1973)

In my book, nothing soothes the soul like a soft, airy palette grounded with deep greens. 

Photo: Classic Modern: Midcentury Modern At Home (2000)

A little bit goes a long way, particularly with sculptural or otherwise-striking botanicals. Imagine this room without nature's presence (OK, it would still be damn cool but you get the point).

Also, proper illumination of plant life showcases it as the living art it is. up-lighting or other spot lighting brings plants out of the night time shadows and casts exciting shadow play against your architecture.
Plants are the essential element for transforming any space into a sanctuary. often brought in at the end of a project, as a mere after thought (tisk tisk, you'll never make that mistake again!), greenery is the deep, cleansing, and utterly satisfying exhale at project completion; the one that says, "You've made it. Welcome home."
Stay tuned for must-have greens on the Tend A-List, coming up next month!