When a hotel is set in the heart of Florence's fashion and design district, you know it's going to be a beautiful one. Designed by studioDO architect David Ohayon in collaboration with Carmel Ilan & Matteo Baroni, the Milu Hotel fuses classic Italian hospitality with modern design and a playful, minimalist aesthetic. The hotel launched only a few days ago and already has glowing reviews. A contemporary hotel set in a historic property in the middle of Florence? What's not to love already?
The exterior of the Milu Hotel has seen a lot of history. Originally, the property, or rather, cluster of properties, belonged to the elite Florentine aristocratic in the year 1400 and is named Palazzo Altoviti-Sangalletti after an heir of the Altoviti and Sangalletti families. In 1835, the building was renovated by artist and architect Giovan Battista Silvestri who joined the Palazzo Altoviti-Sangalletti with the adjacent Palazzo Gerard-Uguccioni. Large stone slabs and symmetrical arched windows define the exteriors of the hotel.
All the art in the hotel was carefully selected by the hotel's curatorial team. For the hotel's opening exhibition, the walls are adorned with artworks from artists like Maya Gelfner, Galia Gur Ziv, and Carmel Ilan. This video installation by Ronen Sharabani is currently displayed in the Open Gallery, an ever-changing exhibition space on the hotel's second floor featuring international artists of various specialities, including sculpture, space installation, drawing, video and photography. You can even purchase pieces on display to take a little bit of Florence back home with you.
Daily breakfast is served in The Library lounge. Ready to head out? The hotel provides curated guides to make the most of the city's offerings.
Each of the 22 rooms are located three flights of stairs up from the street level and feature original artworks by international artists.
No details were left unconsidered at the Milu Hotel. Bold, colorful Missoni pillows complement white linens on the beds. Gubi seats give you a place to rest for a moment. Venetian gold, Murano glass, and Italian black marble pay homage to that luxe, classical Italian design.
Other lighting and design includes local brands like: MOROSO, Rimadesio, MINOTTI, Desalto, MDF ITALIA, Molteni, Magis, and Bonaldo.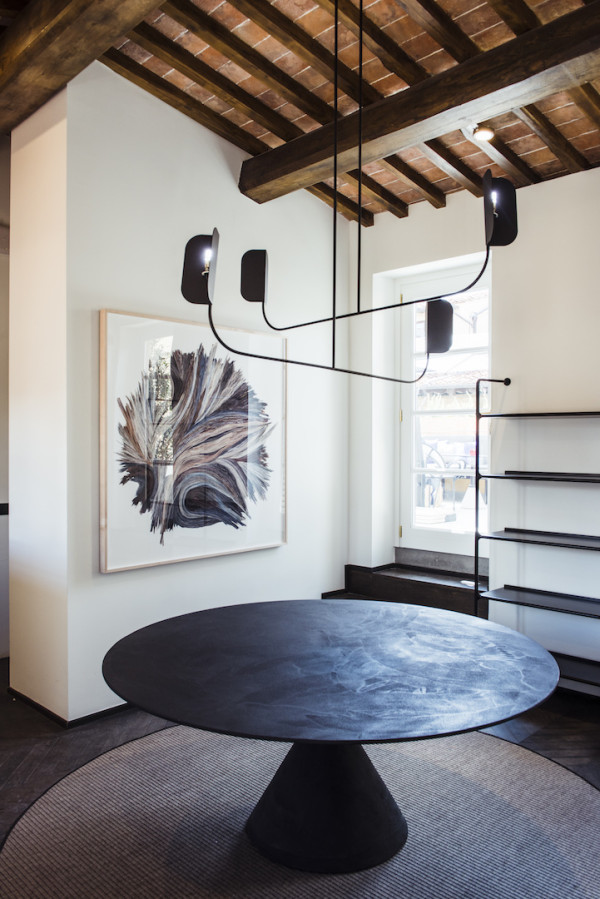 What: The Milu Hotel
Where: Via de' Tornabuoni 8, 50123 Firenze, Italy
How much? Rooms start at approximately $179 per night
Highlights: The Milu Hotel is a modern hotel set in a historic, Florentine property. Staying here means indulging in a truly authentic experience. When else can you say you stayed where the Florentine bourgeois once stayed?
Design draw: Local and international artists and brands line the interiors of the Milu. Art and design not only define the district you're staying in but the room you're sleeping in, too.
Book it: Visit the Milu Hotel's website or call +39 02 4538 6190