MINI's latest campaign "NOT NORMAL" launched in October 2012 (or as they call it, Motor-Tober) and their latest mission was so far away from normal that it landed them (and me!) in the Arctic Circle with one goal – to set a Guinness World Records by bringing the most number of wishes to none other than Santa Claus himself in a project called MINI Goes To Santa Claus.
This video sums up the campaign and our time there:
http://www.youtube.com/watch?v=1seU8hScUT4
Video courtesy of MINI
The background:

Wishes from the scroll
In order to complete their mission, MINI got 16 countries involved — Italy, Germany, Belgium, Bulgaria, Greece, Poland, the United Kingdom, Portugal, Slovenia, the Czech Republic, Hungary, Romania, United States, Russia, Singapore, and Slovakia — to collect wishes from people around the world. They attached the wishes end-to-end on environmentally friendly paper and rolled them up on a scroll with the intention of delivering them to Santa.

Photo courtesy of MINI
To do that, MINI headed out in a fleet of MINIs on a one-way trip through Europe to Rovaniemi, Finland (the Official Hometown of Santa Claus). The newest addition to the MINI family, the Paceman (more coming up on that!) was awaiting the convoy in the Arctic Circle, as well as famed Finnish rally driver Rauno Aaltonen, to celebrate over a few days of events that the MINI team planned for the group.

Decorated Countryman – peep the blue Paceman on the left
To kick things off, MINI hosted a Christmas dinner at a cabin in the woods featuring foods by Italian chef Riccardo de Pra (Reindeer Doner Kebabs, anyone?). When we arrived, we spotted two of the specially decked out MINI Countrymans that were decorated with the MINI Goes To Santa Claus theme and were part of the European trek to the Arctic.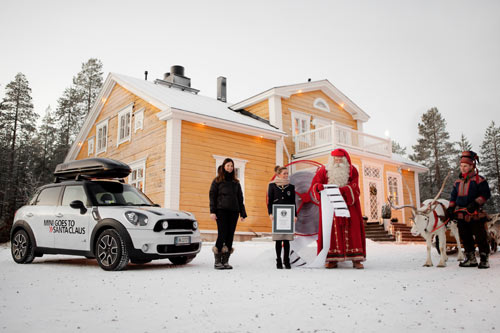 Photo courtesy of MINI
The next jam-packed day, we found out that MINI had achieved their goal and were awarded the Guinness World Records for collecting 75,954, the largest number of wishes to Santa Claus ever. Santa himself arrived via a reindeer-led sleigh (of course) to check out the wish list that was approximately 12,460 feet in length and weighed around 352 lbs. Congrats MINI!

Photo courtesy of MINI
We then loaded up into a convoy of MINIs that included the brand new Paceman and Countryman models. We sped around the icy tracks multiple times pretending we were as good as Aaltonen (we weren't), who was on-hand giving us tips.
The rest of the trip was capped off with snowmobiling through the frozen landscape of Lapland on our way to dinner and it wouldn't be complete without some sleigh riding of our own. "Not normal" indeed!
Our fun-filled trip to Finland was generously provided by MINI USA.

Design From Around The Web