For this month's Destination Design, we head to Xiamen, Fujian Province, China to check out Hotel WIND, designed by TEAM BLDG based around the word "growing" in reference to a building "breaking out from the ground". Obviously the building is designed by an architect and built by a construction team, but it's also built around air, the earth, the weather, and the people on site. Located behind the hotel is Yunding Mountain where the architecture firm learned more about the local history from a resident who talked about the warm, moist weather and how it created an abundance of green vegetation. This gave them the idea of designing architectural boxes "growing" from the mountain and Hotel WIND began.
The minimal lobby is the meeting place for three different installations that were installed: a well of rain, well of trees, and well of wind. They begin from the roof and pass by some of the guest rooms and eventually land in the lobby. You'll see more on those later.
A geometric ceiling installation greets guests as they pass down the hallway.
The hotel's restaurant sits on the top floor and is surrounded by floor-to-ceiling windows making you feel like you're dining amongst the trees. There are also views of the sea and the mountain.
The rain well, one of the three installations that brings nature into the interior of the hotel.
The tree well offers a bit of greenery within the minimal space.
The rooms feature teak wood on the floors and lower parts of the walls, while the upper walls and ceilings are a crisp white. The open bathrooms use concrete and granite for a clean, simple look. Combined together, the rooms offer a calm, relaxing sanctuary for guests.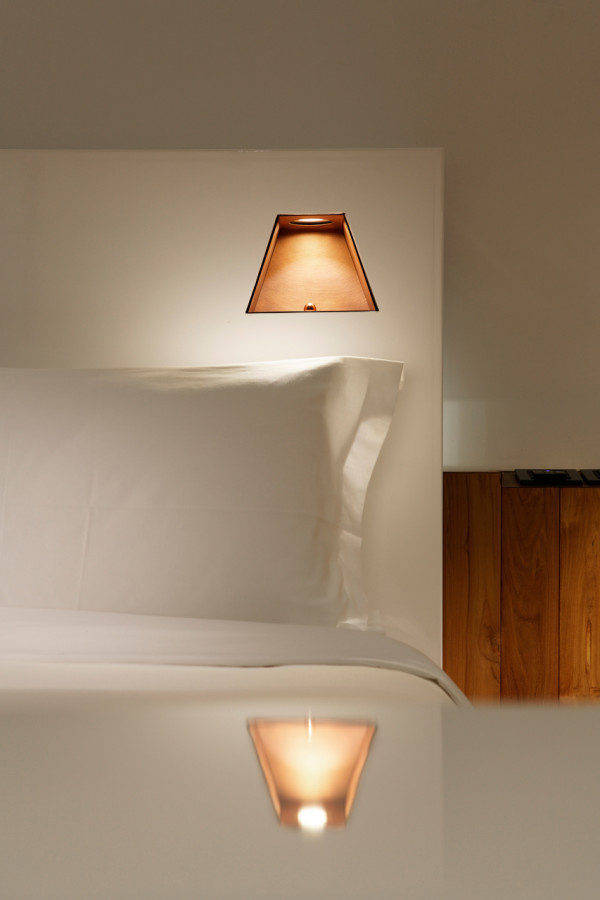 Embedded lights in the headboard are the shape of lampshades, doing away with traditional table lamps.
The entire hotel evokes a sense of calm, void of color, keeping things simple, like the concrete bathrooms.
What: Hotel WIND
Where: Yunyue Building, Huandao Avenue, Huangcuo Part, Si Ming District-International Exhibition Center, Xiamen, China 361000
How much: From approximately $110 US and up
Design draw: A minimalist, calm sanctuary with natural elements incorporated into the interior.
Book it: Call +86-592-2062599 or book online via Booking.com or Priceline.com.
Photos by Nacasa & Partners.

Design From Around The Web