Miró Rivera Architects recently completed Hill Country House, a sustainable residence located in Central Texas. The angular home was designed as a prototype show house for a rural sustainable community to show the possibilities of a self-sustaining home in the country. The homeowners, who set a modest budget, dubbed it "The Sanctuary" as it's designed to "bring people together and find spiritual renewal in a responsible, sustainable setting."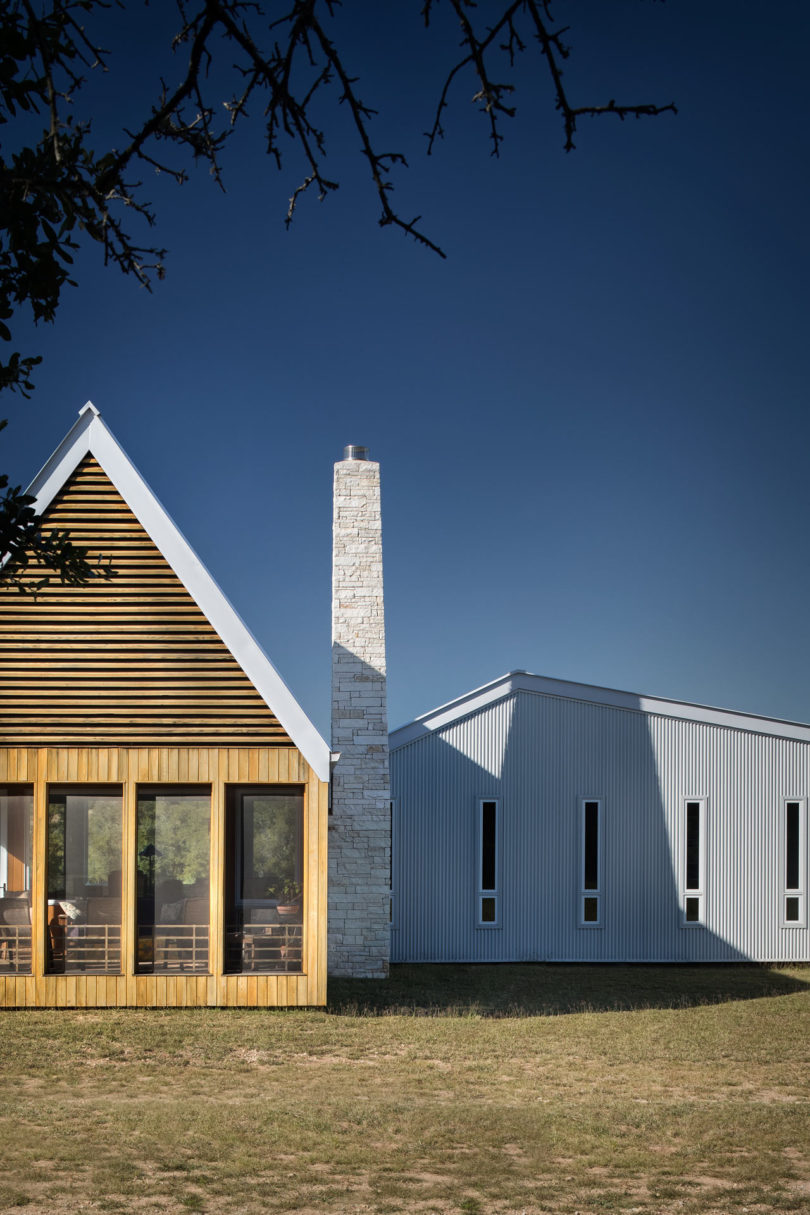 The design gives a modern spin to a farmhouse featuring irregular roof lines and contrasting exterior materials while resting on a relaxing Texas Hill Country meadow. The exterior is clad in corrugated metal panels with locally-sourced cypress for a warm, yet modern look. A limestone chimney gives nod to an existing structure on the 47-acre property that's made of dry-stacked local stone.
White walls give the interior a clean, minimalist feel with pecan floors warming things up with their beautiful grain. A central spine connects the series of volumes that make up the home with the private living spaces at opposite ends.
The tranquil meditation room resides in a corner of the house boasting floor-to-ceiling windows to take in the view.
A plethora of windows ensures the interior is filled with natural light while framing the green landscape outside.
The kitchen continues the theme of contrasts with sleek white cabinetry paired with black soapstone countertops.
Hill Country House earned a 4-star rating from Austin Energy Green Building, benefitting from an 8-kiloWatt solar array that provides 80% of the home's yearly usage. A 5-ton geothermal system takes care of heating and cooling and a 30,000 gallon rainwater collection system supplies 200 gallons of water per day, which is enough for four adults living there full-time.
The porch benefits from a 30-foot peak making it an ideal spot to entertain.
Photography by Paul Finkel | Piston Design.