Hidden behind a subtle brick facade in the Mile-Ex district of Montreal, Canada, is Le 205, a modern marvel inhabited by a designer father, his two sons, and a dog. The small 1950's building was once a workshop that had fallen into disrepair before Atelier Moderno took over to create the perfectly designed house for the family of four.
Off of a wide corridor is the open living space that includes the living room with a desk, a dining room, and a kitchen.
The ceilings were kept exposed and painted white. The white was paired with wood tones, black, and various shades of gray creating the perfect neutral palette.
The streamlined kitchen received an island covered in white Corian, stainless steel appliances, and a large storage cabinet.
Skylights bring much needed daylight into the interior, helping to reduce lighting costs. They also used radiant slab heating, soy-based spray insulation, and a green roof.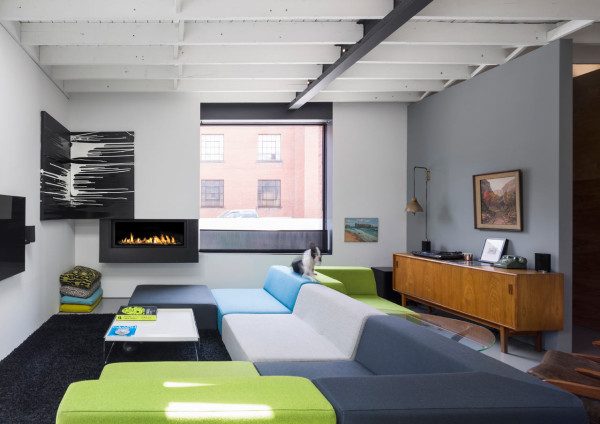 He was also able to save on furniture thanks to inheriting some great vintage pieces from his father.
Digging the master bathroom with the mixed use of materials and the mini fire on the countertop.
The single stringer staircase gives the residents access to the green roof terrace.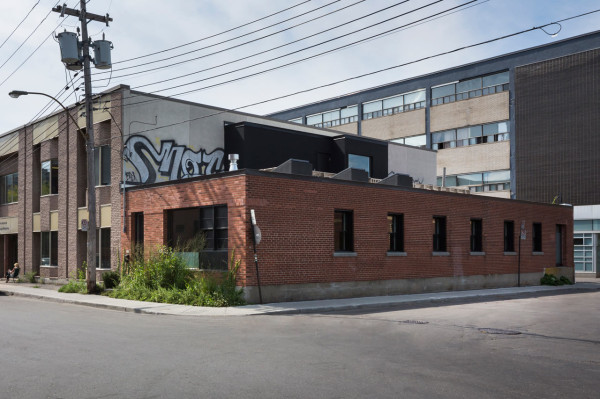 The front facade before and after – quite a difference!
The old workshop before construction began.
Photos by Stéphane Groleau, except where noted, courtesy of v2com.

Design From Around The Web