In the wine region of Red Hill, Victoria, Australia, this modern home rests amongst the grapes. Inspired by the winery, Finnis Architects designed the house so it would age over time and feel more like a part of the surrounding landscape.
The deck on the back of the house offers unobstructed views of the winery through the glass railing. During the winter, the deck allows the sun to heat the house, while helping to reflect it during the summer months helping to reduce heating and cooling costs throughout the year.
The exterior is clad in wooden siding that's hung vertically.
The residence has a simple, toned down facade that invites guests to enter. This side of the house is covered in darkened metal siding that extends to the pitched roof and plays off the lighter wood.
When the front door opens, a long hallway with a high angled ceiling is revealed with light wood paneling on the walls.
The skylight in the center of the hallway floods the space with light while leading you down to the main living area.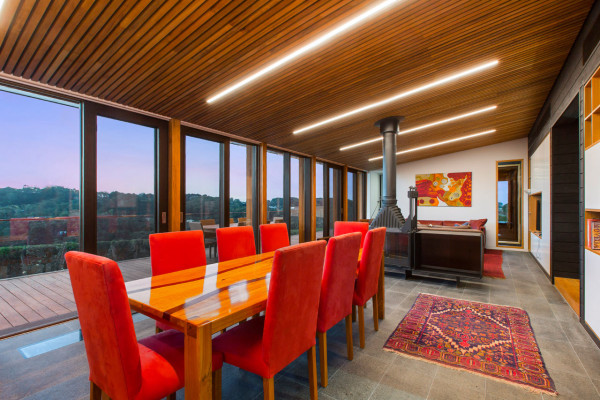 The angled ceiling in the main living area is covered in wood referencing the exterior material.
From the living and dining room area, there's a glass panel in the floor that gives a peek to the wine cellar below.
Photos by Les Hams.