The concept for Play Modern Cuba and 2Cuba playhouses prove the that the best concepts grow from what you know. Like many kids, architect Kimball Hales' three children enjoyed nothing more than playing "house" inside a cardboard refrigerator box. Harnessing his insights into the psyches of the young, his interest in small spaces and prefab kits, and his experience designing modern, sustainable buildings as an architect at Hufft Projects, Hales and his wife decided to developed a modern playhouse. Knowing that the novelty of new toys wears off fairly quickly, they aimed for a model one could re-invent, so when the kids inevitably got tired of the playhouse, it wouldn't take long to reconfigure and make new again.
The playhouses, which are manufactured locally in Kansas City, aren't just modern and modular, but eco-friendly. The panels are made out of environmentally friendly FSC certified plywood and have a low-VOC finish made from a whey protein — a by-product of cheese making. In addition, the handrails are made from fully recyclable aluminum.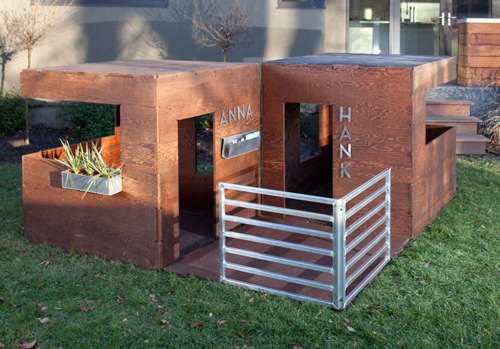 As you can see, these envy-inducing playhouses (all we ever had were horrid primary colored plastic monstrosities), can be reconfigured in dozens of different ways, from a one floor spread with a patio, to a two-story structure with a roof deck. There are both indoor and outdoor models, and add ons, including a slide, sandbox, and modern kitchen, are in the works. Hale has also been having discussions about setting up an entire Cuba Village!
The modules are flat-packed and assemble with minimal tools. Looks as easy as A-B-C.