Originally built in 1961, this 44-room hotel endured a remodel in the 1980s and then was left sitting vacant for a number of years. Tag Collective teamed up with architecture firm Mapos and gave the Lake House hotel a much needed modern intervention. For this month's Destination Design, we head to the heart of Lake Placid, New York, a small town made famous for hosting the Olympics on two occasions.
The quaint, boutique hotel sits next to Mirror Lake and is surrounded by miles of hiking trails and birch trees. Due to its size and cozy nature, Tag Collective renamed the hotel Lake House, giving it the feel of a guest house and not that of a standard, cookie cutter hotel.
The project called for a rebranding which led to an identity system that was inspired by the local trail maps, which encourage visitors to get outside to see the Adirondacks. Using topographic patterns and mountain coordinates, Tag created icons that reflect the various seasonal activities. With a minimal color palette, the natural textures of wood become the focus, along with a rustic red that is featured in the Adirondacks' history.
Fitting in with the region, the hotel's interior is slightly rustic with a warm, cozy, modern feel. With a nod to a log cabin, the hotel reminds you that you're surrounded by nature and the gorgeous mountain views. There's even a bar you can enjoy a drink or a snack at, or meet up with other guests.
Rustic beams and wood ceilings and walls play well with the punches of red you'll see throughout.
When you're done with outdoor activities, you can take a dip in the indoor pool or hot tub. Guests can even enjoy the amenities available at the adjacent High Peaks Resort, which includes two outdoor pools, kayaks, rowboats, and paddle boats.
Each room is named after one of the area's 46 High Peaks. For each room, Tag Collective designed a custom postcard and poster that details the history of that particular peak.
Tag worked with Mapos on all the signage and wayfinding pieces to ensure the branding looked seamless with the architecture.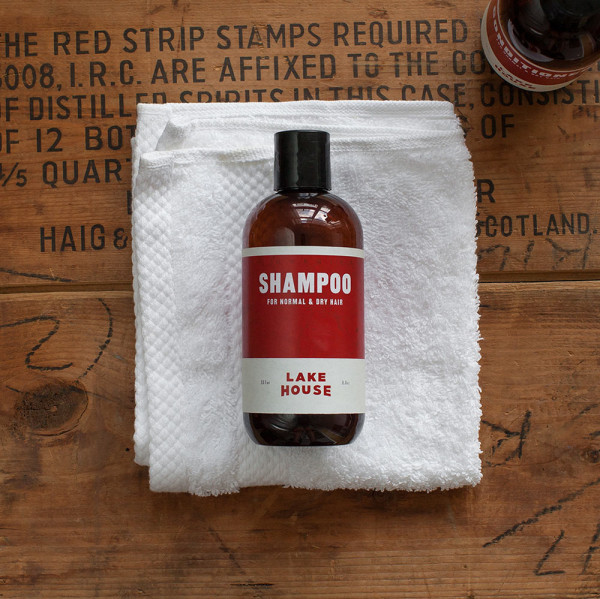 What: Lake House at High Peaks Resort
Where: 1 Mirror Lake, Lake Placid, New York 12946
How much? From approximately $109 per night
Highlights: A cozy, boutique, lodge-like hotel that sits lakeside with gorgeous views of the Adirondack mountains.
Design draw: Warm woods mixed with modern furnishings and a minimal color palette that reminds you of the mountainous surroundings.
Book it: Call 518.523.4422
Photos by Oleg March.