Whether you're looking for a place to get away for the weekend or house for your whole family, Friday gives you that… and then some. Their Floating House is a modular design that lets you choose a cozy studio or a fully-furnished three-bedroom house, all of which float. Living in a cool, modern house would be pretty great, but imagine taking that house and placing it in the water so you can have your very own lakefront property with 360 degree views.
Their designs range from 10 to 18 meters (approx. 33 to 59 feet) with a set width of 6 meters (19.6 feet) giving you lots of options to design your very own floating home.
It comes with two small outboard motors that give your floating house the flexibility of moving it to a new place every day. It's even built so that it can easily be stored in two standard containers and shipped to you anywhere in the world.
Simply charge the boat and your house is self-sufficient for at least seven days. It produces up to 80% of its own energy needs for the year. It was also designed with a reduced carbon footprint using materials and technologies that have little impact on the environment.
The kitchen comes fully equipped for all your daily needs. The house is also outfitted with a heat pump and AC generator, and a barbecue on the upper deck.
The interior has s simple, clean look that's clad with unstained wood giving it a fresh appearance.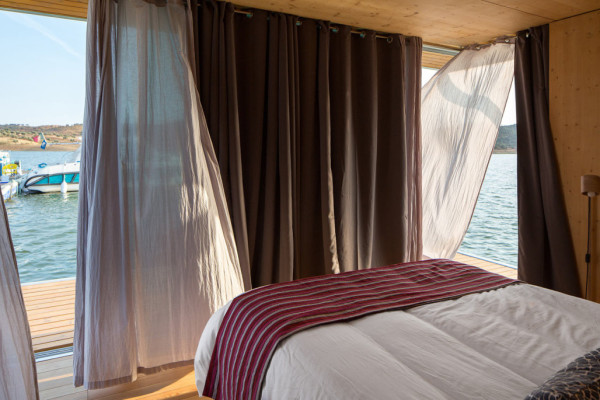 Photos by Jose Campos – Architectural Photographer.