I have a Kindle
and I love it. I have a Moleskine notebook and I love it. If only I could put my Kindle in a Moleskine…now I can! Moleskine sent me their brand new Moleskine Kindle reporter-style notebook and cover
to test drive (the Kindle pictured is my own device). As soon as I opened the package, it felt like I was unwrapping any other Moleskine notebook. If you have never owned a Moleskine, I suggest you go straight to your local Barnes and Noble immediately.
The notebook is slightly larger than the Kindle and has the signature Moleskine cover and elastic band for closure. The inside is a totally different story. The interior is covered in a slightly furry suede-like material to keep your Kindle from getting scratched. On the right, there are four elastics that go on each corner of your device to hold it in place. I never think that these elastics will be taut, but these kept my Kindle secure and it didn't move a centimeter.
On the left is a pocket, in which a thin, reporter-style (top seam) notebook is nestled. I don't know about you but I sometimes need to take notes when I read. I'm currently reading The 4-Hour Workweek
— a good read — and it has a lot of tasks that involve you writing things down. This cover would come in very handy!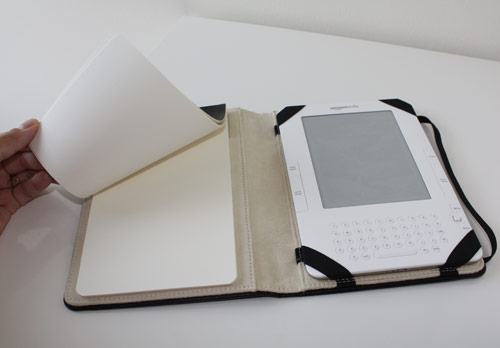 One thing that I think is missing is a pen loop, but then again, there isn't one in the traditional Moleskine notebooks. It's also hard and slightly weighty like a real book, so if you're carrying around the Kindle to avoid carrying around a hardcover book then this might not be the right cover for you. Don't get me wrong, though, this isn't the same as toting around a Dan Brown
hardcover novel! It's similar to the hardness and weight you would expect from any Moleskine notebook — it feels solid and protective.