Moment add-on iPhone lenses have found a place amongst my gear when I want to head out with an intermediate solution nearly as capable as my trusted travel point-and-shoot camera, sans the extra weight. I currently have one of their mounting plates adhered to an exterior protective case at the ready, mostly for macro photography while hiking. The add-on lenses offer an undeniable improvement over the already capable iPhone 7 Plus dual lens setup.
But I've always found Moment's mounting plate solution a little rough around the edges, both aesthetically and in real world use; I recently lost a Moment macro lens on a casual hike under the assumption my lens was securely still attached. Moment previously released a case that promised a better attachment set-up, a large and unique design implying the inclusion of an extra battery pack within…but disappointingly offering no such extra power. I'd suspect most Moment users lived with the shortcomings of the mounting plates for the benefits of the lenses.
But Moment seems to have kept an ear open to customer feedback, announcing a pair of new cases (and a wide angle lens) designed with an improved lens mounting mechanism – one also notably paired with the option to keep the iPhone juiced up for extended photographic duty with an integrated battery pack.
The new Moment Battery Super Case for the iPhone 7 and 7 Plus models has been redesigned from the ground up, outfitted with a custom engineered, slim 3,500 mAh battery for the 7 Plus and a 2,500 mAH battery for its smaller sibling (both capacities result in a 100% charge and compatible with existing Lightning cables).
The resulting grippy and speckled case is objectively thin for one housing a 3500 mAh battery (7.45mm at its thinnest section, 15.8mm at the bottom). Additional features for the mobile photography enthusiast or pro include an integrated electronic shutter button and a most welcome lanyard strap design that makes wearing or carrying the device much more comfortable.  One other case design sans the battery pack was also announced, but if one is going to attach a case specifically to use with Moment lenses, the battery-equipped design seems the most portable and power-efficient solution in our opinion.
The Simple Case was a study in subtraction. Starting with the thickest part of the case, the lens interface, we started concepting a new interface that was both thinner and stronger. Next we rethought the strap attachment, creating solutions that made the attachment easier to use while the phone is inside. Lastly we explored how much plastic versus TPE rubber would be required to provide enough protection from the occasional drop, without adding unnecessary bulk. – Moment CEO Marc Barros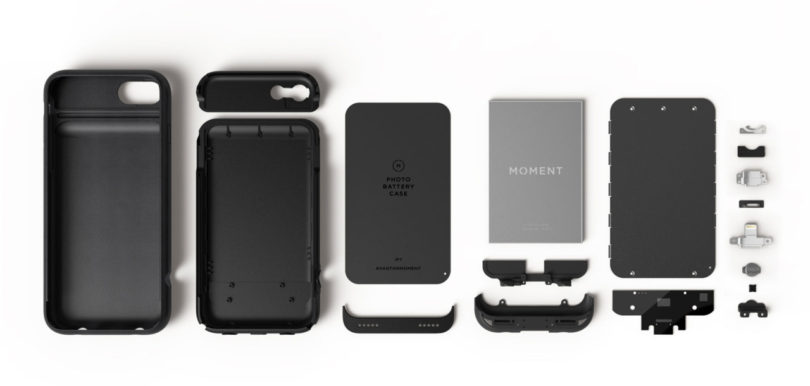 Moment has taken the route of announcing these latest designs via Kickstarter to offset financial risks – always a concern with relatively smaller companies – currently seeking market feedback/interest with introductory prices and packages mixing and matching cases, lens, and accessories for anyone looking to up their mobile photography game.

Design From Around The Web