Have you ever seen a hotel more on brand with the Design Milk aesthetic than the Hotel Mono in Singapore? ;) Designed by studio Spacedge, this 46-room boutique hotel is almost entirely black and white, with very few colors in nude tones to accent the space.
Situated in the Chinatown neighborhood in Singapore, Hotel Mono used to be a series of six 1900s conservation shophouses that Spacedge refurbished and redesigned into the boutique hotel it is today. By using only black and white, Spacedge is able to create contrast using graphic elements and structures in the same color way.
Spacedge incorporated some low cost design decisions that still kept to the minimalist aesthetic of the hotel, such as the old-school mosaic in the bathrooms and the 38mm-thick hollow black metal bars that function as clothing racks and light casings.
Spacedge made sure to keep the some of the original details of the building, like the 1900s Rococo windows. Besides some nude wood and pink accent colors, you can see that the hotel is pretty much completely black and white.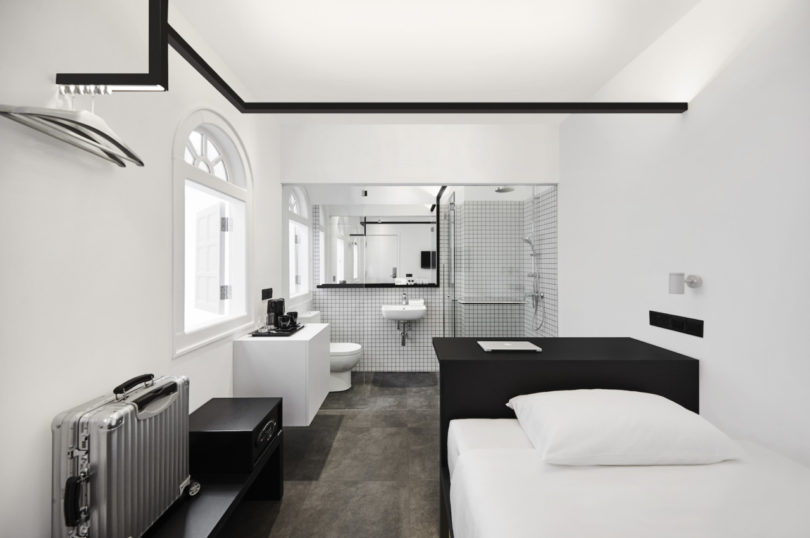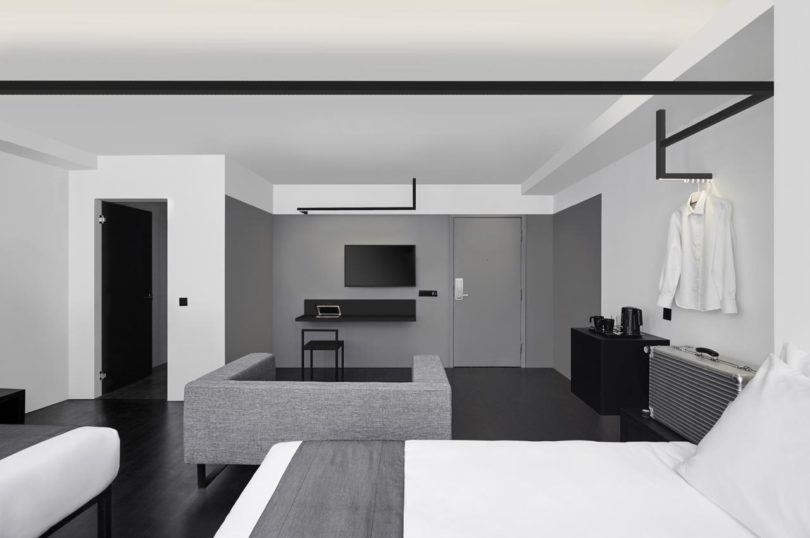 What: Hotel Mono
Where: 18 Mosque St, Singapore 059498
How much? Rooms start at approximately $101 per night.
Highlights: This monochromatic boutique hotel is a minimalist design lover's dream. Situated inside historic 1900s buildings that have been refurbished by design studio Spacedge, the hotel is a perfect mix of old and new.
Design draw: The black and white color scheme gives way to highlight all the custom furniture, accents and structures inside each room, from the mosaic tiling to the graphic but functional black steel bars.
Book it: Visit the Hotel Mono