Morpholio Board is about to change the interior design game with its ability to let designers, architects, photographers, artists, and other creatives lay out mood boards, design ideas, and collages with a library of over 1000 of the top designs from the likes of giants like Herman Miller, Knoll, Porcelanosa, 3Form, Artek, and smaller firms like Volk and Uhuru.
So what is it exactly? It's a mobile app that lets you get all of your creative ideas down into one, easy, and super fast place by way of mood boards (collage and get inspired), design boards (present ideas or concepts), white boards (sketch, draw, or write), cork boards (scrapbook your best photos), and memo boards (markup notes or organize). While it looks and works seamlessly for any professional, it's also a great platform for any design novice. Basically, if you design, draw, collage, pin, or blog, you'll now want to "Board".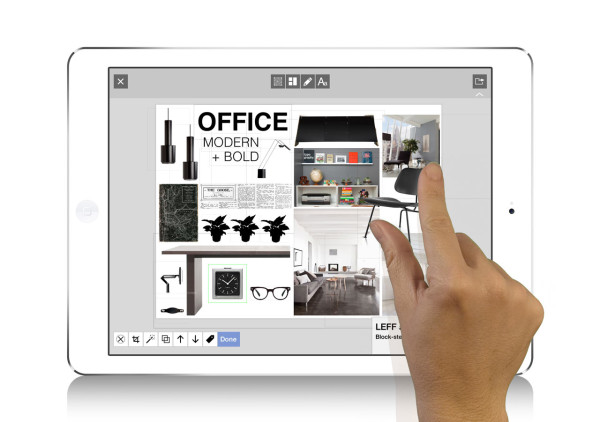 Check out some of features:
You can go through their curated selection of furniture, fixtures, accessories, materials, and more, and add them to your board. Say you choose a classic chair – you then visit their site to clip color or fabric options.
You can tag all of the objects you've clipped from the gallery or web and it will compile an "Item List" for you so you can easily email all of the items.
"The Portal" lets you pull imagery from the web, from Pinterest, or from your own computer and then subtracts the background for you to make it clip art.
If there are items you're not using that second but want to keep around, there's the "Conference Table" that keeps the objects in the margins.
It has an extensive library of people, symbols, backgrounds (any color, cork, or graph paper), and text choices, called "Entourage", for you to add to any layout.
You have the ability to instantly draw over any image, sketch, mark up, or writing with "Illustrate".
And best of all, you can easily share your work to Facebook, Instagram, Twitter, or via email.
Other examples: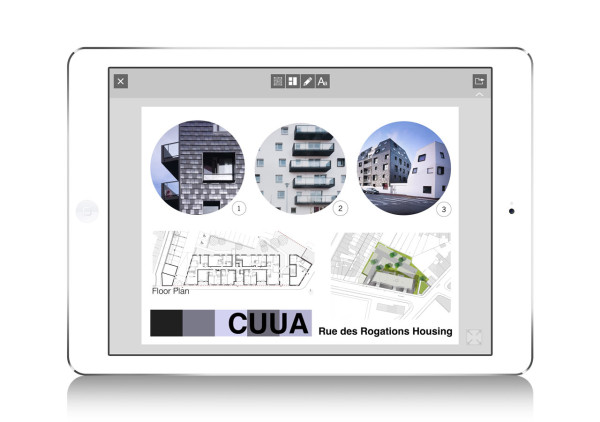 Basically, the options are only limited by your imagination, so quit reading and get designing! Want to take it for a spin? Download it from iTunes here.