EASTERN Design Office created a residence located in Takarazuka-city of Hyogo Prefecture in Japan. Situated in an exclusive residential district on a hill slope, its view is that of the entire Osaka Plain. The site has an 8-meter difference in height allowing for a challenging slanted build, most of the home is practically invisible from the road above.
Two goals of the home were to 1) to be underground in the warmth of the earth and 2) to feel as though one were flying like a bird.
The upper floor creates — in a sense — the feeling of flight, flying high over Gulf of Osaka, high-rise buildings, Kobe port, Kansai Airport, Itami Airport, and shadowy blue mountains. One also gets the feeling of setting sail on a mountain ship voyage crossing mountains and plains instead of a sea.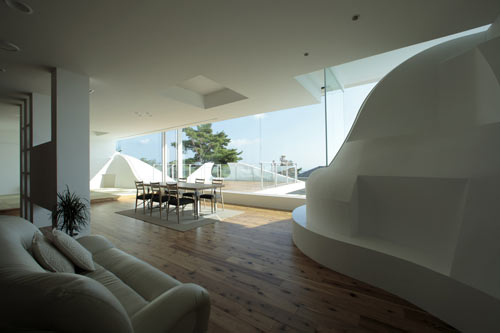 Completed: December 2009
Location: Takarazuka Hyogo Japan
Usage: Office, house
Site area: 711.46 m2
Total floor area: 361.84m2
Architects: Anna Nakamura+Taiyo Jinno/EASTERN Design Office
Structural Engineering: Hojo Structure Research Institute
Constructor: Fukasaka Co., Ltd
Photographer: Koichi Torimura