While Daniel Libeskind's Vanke Pavilion for the Milan Expo found inspiration in the Chinese landscape as inspiration back in 2015, MUDA Architects cite the heart of Chinese culture – food – as its muse in a developing project in the Sansheng Township of the Chengdu province of Sichuan today. The slow dancing trails of aromatic steam emanating from the boiling fiery broth of the popular communal dining dish of Sichuan hot pot helped shape MUDA Architects' plans for a sensual and sinuous restaurant nested in a hauntingly beautiful setting to dip and sip communally.
A commissioned project for the Chengdu suburb cited as "Chengdu's green lung", MUDA Architects' vision forgoes walls completely for a pavilion-style structure encompassing its own body of water, creating an intimate setting where diners are instilled with a sense of dining amongst the trees rather than their presence merely operating as decorative backdrop.
From a site plan perspective, the project takes on similarities to the outline of an elongated Aalto Vase, a squiggle surrounding a small lake, silently incorporating each of the four elements if one considers the flames heating pots within.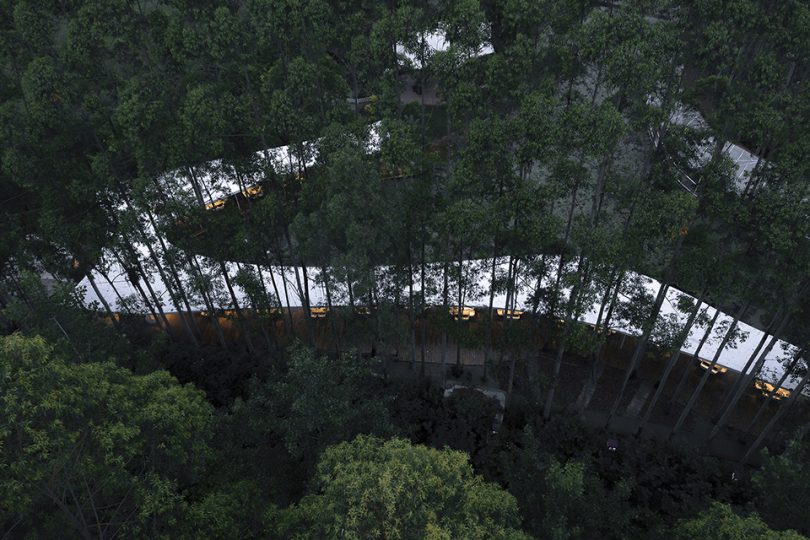 Large expanses of glass with pillars mirroring the verticality of tree trunks gently allow the restaurant to blend into the landscape, offering diners a view rather unlike any other hot pot restaurant on earth.
Project location: Chengdu, Sichuan
Design team: Lu Yun,Xu Jiandan,Sun Qiming,He Yixiu,Chen Xue,Liu Xiaoqiao,Rong Dian,Zhou Shangyun