With more and more elderly parents and 20-something children moving in with their families, it's no surprise that multigenerational homes are becoming more popular. Having extended family around to help with the children is just what Finnish actress Vilma Melasniemi and actor Juho Milonoff wanted when they were looking for a home, so having everyone under one roof makes things easier and more fun. The family worked with Tuomas Siitonen to design House M-M that features two apartments under one roof.
The couple found land on Vilma's parent's property in Helsinki's Oulunkylä on a sloped lot surrounded by lilac and apple trees.
While the house is contemporary, it still respects the natural surroundings thanks to the Siberian larch that covers the exterior.
The lower floor has a studio apartment for Vilma's 91-year-old grandmother to live. They also installed a sauna and utility spaces on this level.
Upstairs, there's a 120-square-meter apartment that the couple lives in with their two children. Currently the grandparents remain in their own villa on the same property.
The main level apartment leads out onto a large, covered terrace making the residents feel as if they are living amongst the trees.
The large living room houses the kitchen with a loft overhead that's made possible by the sloped roof.
Large windows bring the outdoors right inside while letting the light pour in.
The loft makes you feel like you're living above the treetops.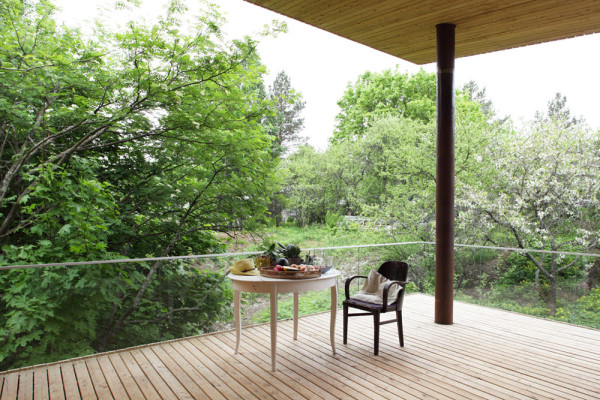 Interior photos by Maija Luutonen.
Exterior photos by Tuomas Uusheimo.