Nando's is a chain of restaurants that began in South Africa in 1987 whose specialty is Portuguese-style chicken. Their casual style and ability to adapt to different markets with their creative branding has made them the success they are today. One such location is the Nando's in Ashford, in Kent, England. Well known for their restaurant and hotel interiors, the UK-based design firm Blacksheep created an eclectic space that fits both the location and the client. Blending modern and rustic is not always easy but they seem to have done it well.
Pops of turquoise are seen throughout in lighting, tables, chairs, and in the diamond-patterned wood structures that hang from the ceilings. While mostly left in their natural wood state, a few are painted turquoise adding additional visual interest. I love how they fill some of the vertical space without cluttering it up. The ceilings are high and painted black making it disappear but the structure makes it feel less cavernous.
Distressed wood boards cover the walls horizontally, which offers a nice contrast to the modern furnishings used.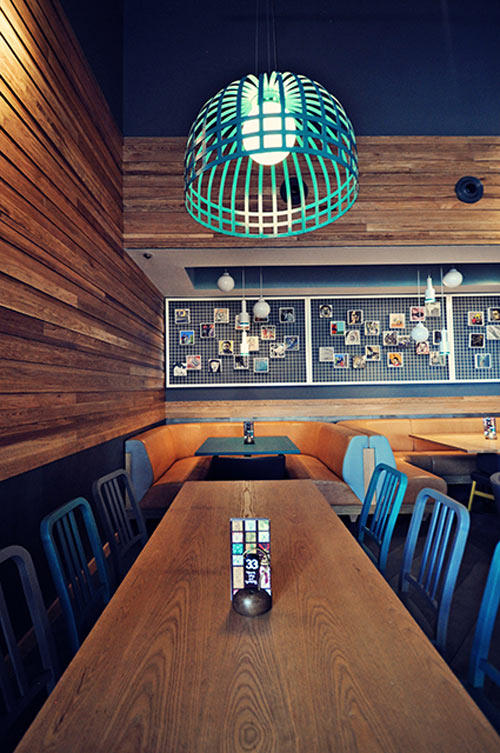 The company is a big supporter of the South African art scene and you can see work displayed on the walls and on the wire mesh grates that hang all around.
Photos by Ben Webb.