Students from the Furniture Design and Textiles Departments at Rhode Island School of Design (RISD), were challenged to rethink how soft materials are used in furniture design. Rather than using traditional methods, such as covering with foam and textiles, students thought outside the box using weaving, knitting, crocheting, and knotting.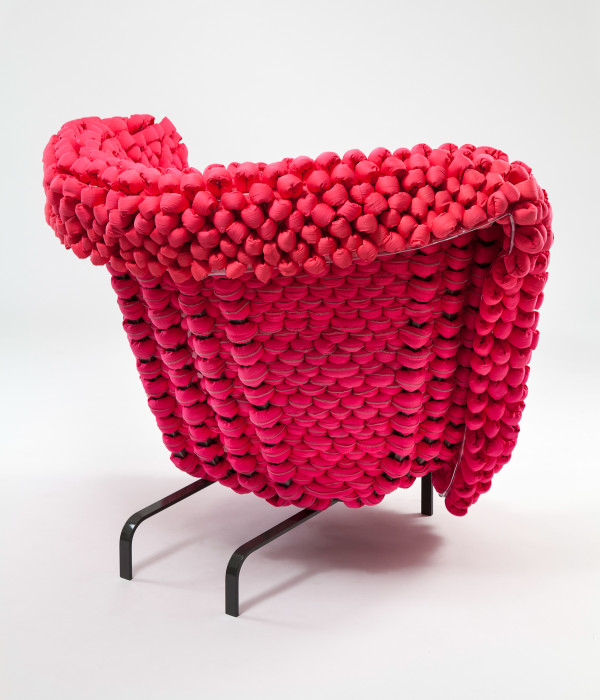 Created by Ana Mosseri and and Elaina Runge, the Looped Pile Seat took inspiration from plush carpets. It features a long piece of upholstered foam that is covered by loops.
Andrew Bannar and Noelle Webster designed the Paper Crochet chair, which features a stainless steel frame covered by crocheted paper yarn. As a result, the chair has a self-supporting shell that molds to the body.
The Million Loops sensual lounge chair, by Maria Camarena Bernard and and Aakanksha Sirothia, has no framework besides hand-crocheted textiles, and manages to be sculptural and pliable at the same time.
The Stretch Lounge by Michelle Dunbar and and Mayela Mujica evolves through use. When people are sitting in it, the lounge stretches, and hidden colors are revealed through the knitted textile. It is made for two people to sit in it, creating an interaction between the seated and the chair itself.
Noelle Antignano's Sinuous chair has a simple metal frame that is juxtaposed by bold, upholstered extrusions. Much like a weaving with unfinished edges, the chair is a picture of controlled chaos.
Made up of a double cloth woven fabric, memory foam, and elastic, the Caterpillar Lounge by Griffin Boswell and Ruth Henry is uniquely constructed and has a hollow interior.
Wall-To-Wall, by Emre Bagdatoglu, is a chair that consists of folded carpet strips packed together by utility rope, creating a unique look.
All of the pieces will be shown at the 2016 International Contemporary Furniture Fair (ICFF) in New York City, while some will be at the XXI Triennale International Exhibition Milan 2016 (XX1T).