In the second of our new monthly series, profiling designers based in the UK and Europe, our Editor at Large Katie Treggiden talks to London-based designers and curators Native & Co.
British-Japanese Chris Yoshiro Green and Taiwan-born Sharon Jo-Yun Hung met while studying on the art foundation course at London's Chelsea College of Art. They both went on to study product design at Central Saint Martins and bonded over their shared love of cultural projects that were perhaps more conceptual than commercial – Sharon's graduate project focused on the social identity of Taiwan's indigenous tribes, while Chris explored the rituals of Japanese funeral ceremonies. "Looking back, I think our tutors noticed that we were a team, but were a bit perplexed by our ideas," laughs Sharon.
As products of a course that, at that time at least, was more focused on training designers for industry, their path since graduation hasn't been typical either. They divide their time between designing and sourcing homeware made by craftspeople in Japan and Taiwan for their Notting Hill shop Native & Co and collaborating with governmental bodies in Taiwan and Japan to promote their respective cultures, cultivating the 'soft power' of the two nations through craft. "We are product designers who focus on Japanese and Taiwanese tableware," explains Chris. "Our key drive is the origin of things and keeping craft alive through good design."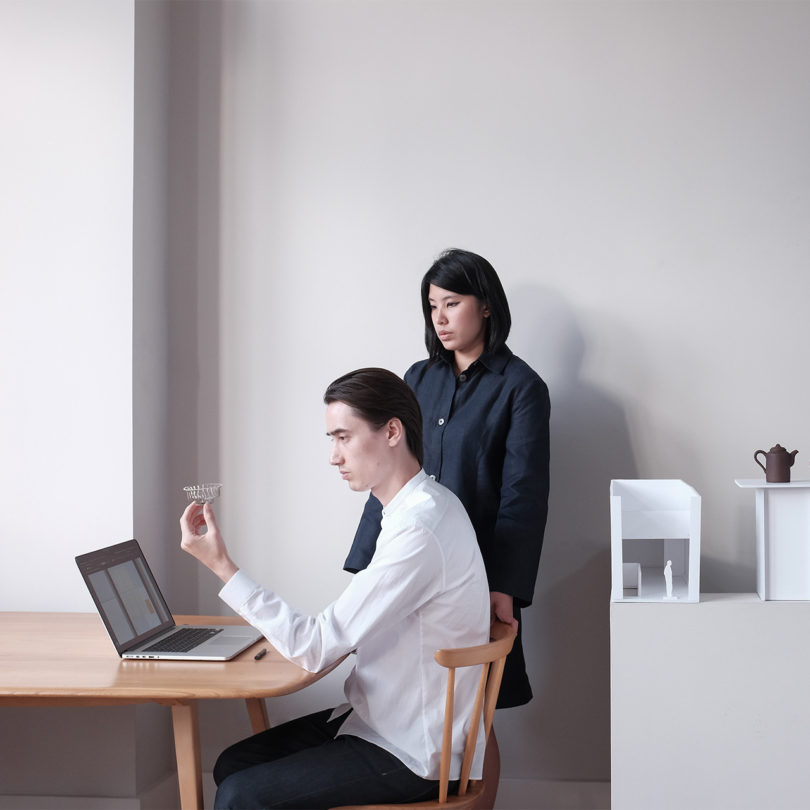 Chris, whose mother is Japanese, was born in London, and grew up in Paris. "Although I see the UK as my home, not being raised in Japan has disengaged me from my mothers' ancestry, which is one of my callings for Native & Co," he says. "Being half-Japanese has its advantages, I can see Japanese culture with fresh eyes, but with a deeper understanding. I'm not overly bound by Japanese values, so it is easier for me to reinterpret them."
Despite growing up in Taiwan, Sharon feels she has lived in the UK for long enough to gain the same fresh perspective on her own culture. "Although I don't come from a mixed background like Chris, I've spent enough time outside Taiwan to observe it with the eyes of an outsider," she says. "Taiwan has great potential but lacks a consistent image. In the past, it has been described as the 'melting pot of Asia,' and historically this is quite accurate, but with Taiwan's complex political status, it creates an unclear cultural message. One of our aims is to develop a stronger soft power for Taiwan through design."
Using the phrase "subtle design, made with purity" to describe the products they design and source to sell in their shop, Chris and Sharon have developed a trademark aesthetic that is understated and restrained in a way that's true to their Japanese and Taiwanese roots, whilst also capturing a certain zeitgeist in the West by working with specialist makers and traditional craftsmen to translate indigenous products to meet British needs. "We design products that are faithful to the maker's cultural traditions and aesthetical values, but also suitable for the European market," says Chris. "Our collections need to be contextualized in a way that can be understood and related to in the UK. I recently visited Mashiko and Kasama, which are both historical centers of Japanese ceramics. Their local pieces are intended for the Japanese market, so we have to be very selective and consider carefully how to present these in the UK, which is a very different market."
It is this unique insight into dual cultures that enables them to work with governmental organizations promoting Japanese and Taiwanese culture in the UK. Recently, they were invited by the Ministry of Culture, Taiwan to design a Taiwanese tea experience or 'gongfu' for London Craft Week. "The exhibition centered around the concept of 'Wu' (伍: five) – a selection of five classic oolongs, from five regions, paired with five clay teapots, all native to Taiwan," explains Sharon, who undertook training to become a tea master as part of her preparation for this project.
"Wu presented Taiwan's traditional tea culture alongside modern tea interpretations such as a roasted oolong gelatine, (a sweet tea confectionary), and ice oolong (brewed oolong frozen in ice and melted over boiling water)" she says. "By blending traditional gongfu and modern brewing techniques, Wu offered a new way to experience Taiwanese tea." The concept carried right through into the exhibition design, which combined white space with warm timbers, the traditional teaware, and the fact that the tea bar only accommodated five guests at a time.
Chris and Sharon are already in talks with Ministry of Culture, Taiwan about further iterations of this idea and are also talking to their Japanese clients about a similar event promoting the traditional Japanese tea ceremony.
With 'native' in their name, it's clear that this design duo are passionate about promoting craft from the countries of their ancestors, but it's the "& Co" that makes them special – the marriage of traditional and contemporary, of design and craft, and of where they are from and where they are now that makes Native & Co such a compelling proposition. "Craft should not be a luxury," says Sharon. "The only way it can truly survive is if it's made relevant to modern everyday life through design."

Design From Around The Web