Natural Materials + Neutral Colors Create Tranquil Apartment in Taiwan
Natural Materials + Neutral Colors Create Tranquil Apartment in Taiwan
1/22 Photos
2/22 Photos
3/22 Photos
4/22 Photos
5/22 Photos
6/22 Photos
7/22 Photos
8/22 Photos
9/22 Photos
10/22 Photos
11/22 Photos
12/22 Photos
13/22 Photos
14/22 Photos
15/22 Photos
16/22 Photos
17/22 Photos
18/22 Photos
19/22 Photos
20/22 Photos
21/22 Photos
22/22 Photos
Looking out to the city of Qinpu, Residence W is a new design by fws_work for an airline pilot who spends most of his time traveling. As a result, he longed for a place of respite in between trips. To make that happen, fws_work created a warm, tranquil environment through the use of natural materials and neutral colors.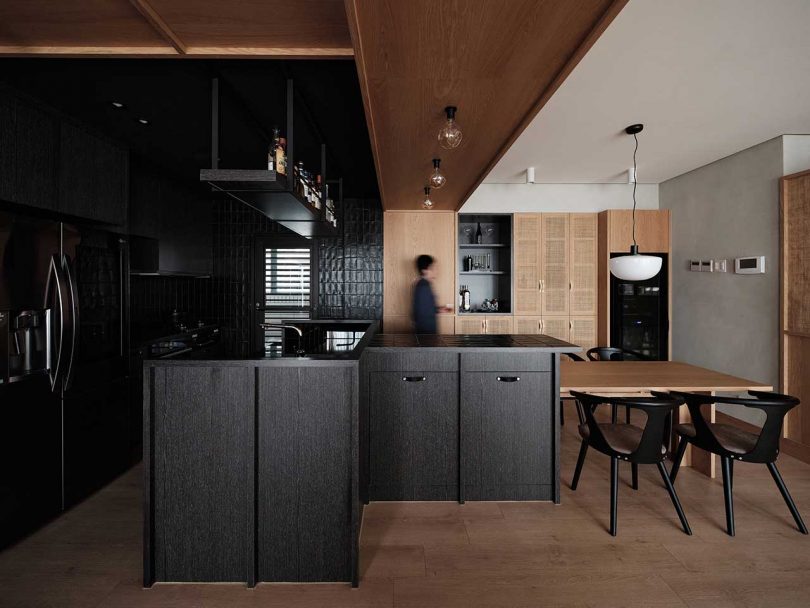 Plastered walls and oak are the base of the design with elements of woven cane, ribbed glass, encaustic ceramic tiles, and linen furnishings layered in. Custom cabinetry throughout elevates each space with its high-end craftsmanship.
The kitchen is decked out with a moody vibe thanks to black stained cabinets, black wall tiles, leather handles, and stone countertop.
A cabinet featuring rattan doors highlights glassware and tableware with shelf lighting seen though the perforations.
The main living area combines the kitchen, dining room, living room, entryway, and reading area in a large, open space.
A half wall acts as a divider and desk between the living room and reading area. A built-in bookcase offers plenty of storage for books and object found while traveling. The original structural beam has been clad in oak panels to disguise it while it also acts as a visual separator between the areas of relaxation and action.
A hallway leads to two bedrooms and a multifunctional room with a woven cane wall that allows natural light through to the hallway.
Photos by Suiyu Studio.