The Nautilus Loudspeaker Remains an Audacious Audiophile's Dream
The Nautilus Loudspeaker Remains an Audacious Audiophile's Dream
1/8 Photos
2/8 Photos
3/8 Photos
4/8 Photos
5/8 Photos
6/8 Photos
7/8 Photos
8/8 Photos
Within the rarefied air of audiophilia, there are very few ultra-high-end loudspeakers as iconic as the Bowers & Wilkins Nautilus. There is simply nothing like it, a statement that rings true to this day 30 years after its launch. Bowers & Wilkins is commemorating three decades of the Nautilus with the creation of a unique pair of their flagship design finished in a dramatic Abalone Pearl paint that may be its most exceptional expression of the biomorphic audio object.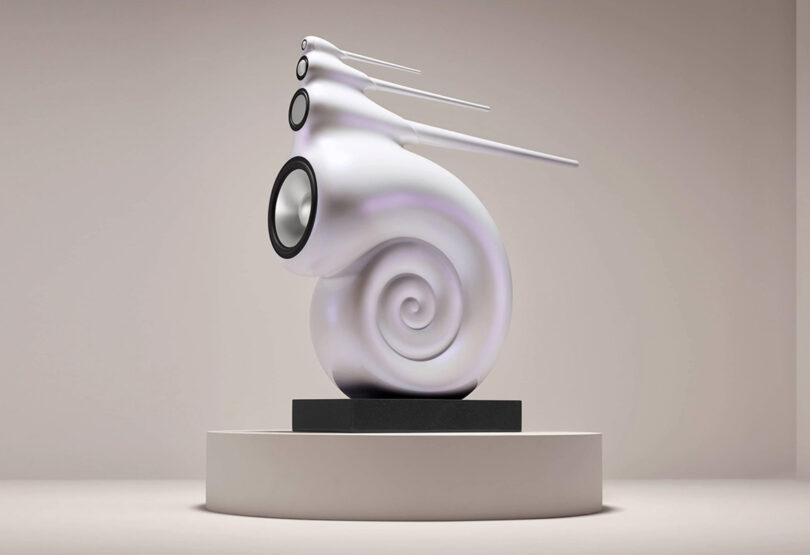 The Nautilus was imagined as an audacious and sculptural expression of the company's late founder John Bowers, brought to fruition by lead engineer Laurence Dickie. With five years time and a "no-holds-barred approach" to audio performance, the speaker shaped to resemble the marine cephalopod came into reality and has withstood the test of time to remain relevant and an aspirational statement piece.
This no compromises approach has meant every Nautilus was and continues to be made-to-order and hand built at the Bowers & Wilkins factory in Worthing across its thirty-year span. Each piece requires an extraordinary amount of craftsman skill, taking over a week's effort to complete each cabinet even before the unit is sanded, painted, or polished to its eventual desired finish.
The loudspeaker's exponentially tapered tube is an example of biomimicry, a design that Bowers & Wilkins also credits to the loudspeaker's ability to  gently absorb stray energy, technology that has trickled down to numerous other loudspeakers and coloring the brand's catalog with a distinct Bowers & Wilkins signature sound.
Beyond the occasional new color/finish, the brand has not had any inclination to change anything about the Nautilus in its construction nor the componentry within over the decades. The meticulous amount of effort means Bowers & Wilkins is perpetually playing catch-up to demand. Despite a $100,000 price tag for a pair of Nautilus speakers, the wait list stretches back two years for new orders.
If you're fortunate to conceive parting with a sizable amount of money for a Nautilus, you can pick from three standard colors – Midnight Blue Metallic, Silver, and Black – or for an extra fee, utilize a custom-finish service to order a very exclusive Nautilus uniquely your own.