Next week, NeoCon, the global platform for the world of commercial interiors, opens the doors to its 51st edition of the show. We'll be there scouring the floors for the latest in design, trends, and ideas for commercial spaces – will you be there? NeoCon runs June 10-12 at The Mart in Chicago, IL and you can register here to attend. In the meantime, keep reading to see what you can expect from #NeoCon2019:
NeoCon is presenting three keynotes this year covering a variety of human-centric design, led by some of the industry's most creative minds. They include: "The Familiar and Unusual: An Investigation of Balance and Experience in Design" by Robin Standefer and Stephen Alesch, of Roman and Williams Buildings and Interiors in New York; "Stuff Matters: The Material World We Make" by Ilse Crawford of Studioilse in London; and "Do No Harm: The Role of Design in Complicated Times" by Liz Ogbu of Studio O in New York.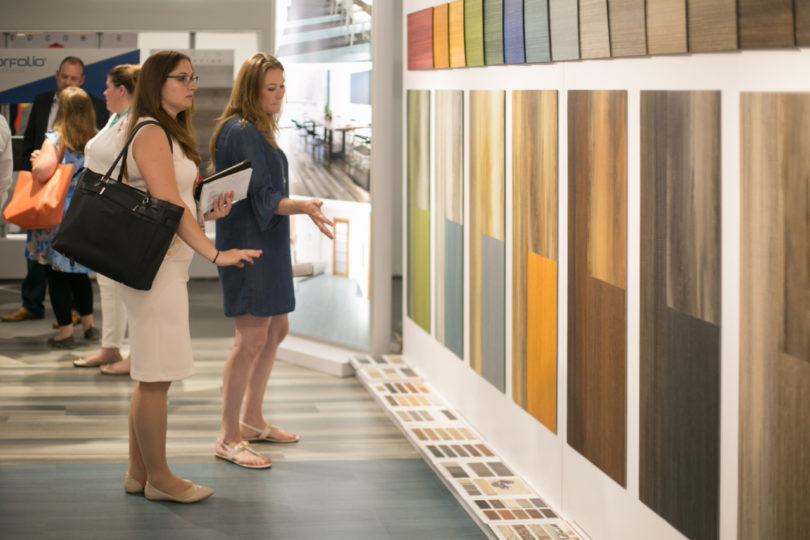 This year, there is an increased focus on hospitality design and exploring the needs of this market. Lisa Haude, president of Paradigm Design Group, will be presenting a seminar titled "Approaching Historic Preservation with Authenticity in Hospitality Design" and Robin Klehr Avia, regional managing principal at Gensler will be covering "What Clients Want: Essential Design Conversations." Offsite, attendees can register for designer-led tours around some of Chicago's newest spaces, including TAO Chicago led by the Rockwell Group and Hotel Essex led by The Gettys Group. Over on the show floor, over 300 NeoCon exhibitors – including Arper, Wolf-Gordon, Sunbrella Contract, BuzziSpace, Chilewich, Maya Romanoff, and Humanscale – will be showcasing hospitality-minded products, including textiles, wall coverings, lighting, indoor/outdoor furniture, and more.
During the week, various events, awards + parties, and celebrations will be held throughout the Mart and the city, including an exhibit hall happy hour, a Toast to Fine Design at the Design Center, IIDA 25th Anniversary Party, live interviews with Interior Design, and designer guests at the ID Live studio, and more. See all of the fun events here!
And of course, there's no shortage of brands to check out as they showcase their latest collections. Seven will debut their new permanent showroom on the 11th floor including Hightower, Kwalu, Beaufurn, Montisa, Cumberland Furniture, Emeco, and HAT Contract. The exhibit hall on the 7th floor will be buzzing with new exhibitors including Cascando (Netherlands), Pedrali (Italy), Actiu (Spain), SilentLab (Czech Republic), INTO the Nordic Silence (Finland), Luxxbox (Australia), SF Collection (Italy), Slalom (Italy), and Tis the Italian Space (Italy). Returning exhibitors like Allermuir, Okamura, Arper, and Stylex have either expanded or relocated showrooms, collaborating on their new spaces with top firms.
We have *barely* scratched the surface of this year's show. Register to attend here and check out the full program of events, seminars, exhibitor list, and more before you head to Chicago to make the most of this year's NeoCon show.