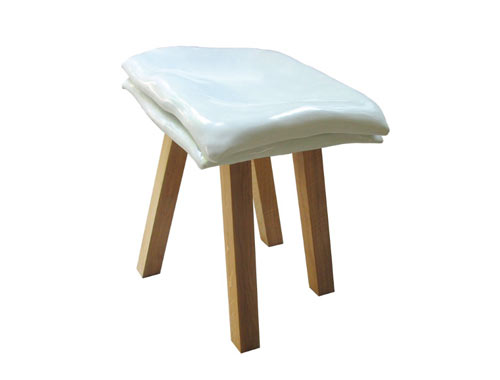 Judith van den Boom / BoomWehmeyer presents a new collection of functional porcelain furniture pieces opened a few weeks ago at design gallery Karena Schuessler in Berlin. The collection contains four different benches and two stool styles all available in series numbers at the gallery. The collection was created with porcelain press-mold techniques to create functional strong usable ware.
From the press release:
The collection is about bringing porcelain in a wider usage, expanding through old techniques the wider possibility of landscapes of porcelain. The collection relates to the collection "Qing Zuo" that was made nu Judith van den Boom in 2008, with theme of connecting in natural ways to the landscape of sitting. Using the natural quality of strength, pureness and softness of porcelain with a combination of soft flowing shape and a natural form of sitting. For these reasons we used a direct hands- on way of model making while working in Jingdezhen, China. Through not by making sharp lines in the models but by keeping the shadows in the glaze and form very soft, forms were created with simple connection to your hands and body.

The process of making takes you through all layers of place, process, material, socialness and culture and that's a group you can't force into a shape being visible for the viewer. The making of the collection Porcelain Topographies was a team effort that brought together the expertise of different people in the Netherlands, China and Germany. Through great support, work and enthusiasm of a special group of people and organizations it was possible to realize this collection.