Woodly is an Italian company that creates furniture built on the idea that each piece has a high quality level of construction that is meant to span time, and is also eco-friendly. They recently debuted their newest products, including Happy Feet, a tripod that suspends Woodly cradles and becomes a greenhouse or nursery when your children outgrow it.
The Happy Feet tripod was built for the Roll cradle, and is perfect for those who choose not to drill holes in their ceiling. It's light and foldable, but secure enough to hold the cradle.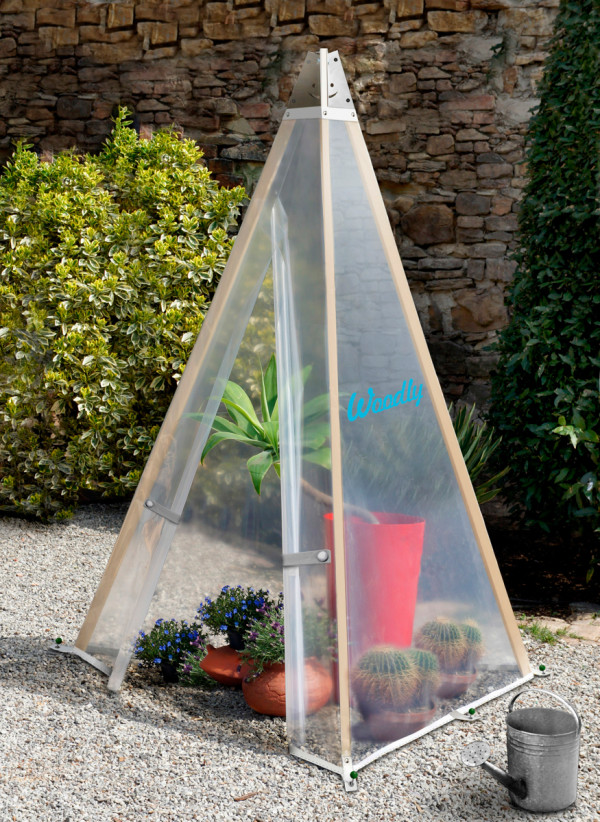 When the baby outgrows the cradle, what happens to the tripod? It becomes the perfect cradle for holding small plants. Add on the transparent hood and it becomes a small greenhouse, perfect for a little garden or terrace.
For those who don't mind drilling holes into the ceiling, there is the Hanging Cradle Roll. Four sturdy, cotton ropes are connected to a central ring, which is then attached to a hook on the ceiling. The cradle is then suspended, mimicking the rocking motions of a mother's belly. The cradle itself has a padded nest inside, made of pure wool felt. The inner layer of the cradle can be opened on both sides, which makes it easier for the baby to sleep beside you if desired. When your baby outgrows the cradle, the inner cradle becomes a magazine holder and the shell can be flipped over to become a little table for the kid's room.
The Pluma cradle is for those who like to stay close to the ground. It's a soft nest-like structure that's made out of non-treated wood felt with a light but strong wood exterior. The mattress inside is made out of cotton and biological spelt husks, which is comfortable and breathable.
Lastly is the Montessori floor bed. It's a playful cot for total freedom of exploration. The child can easily climb on and off the cot, but the edges along the side prevent any accidental tumbles during rest. It's made out of solid fir wood, wax, and has a shellac finish.

Design From Around The Web