Designed by Adam Court for OKHA Interiors, this selection of new products that have an undulating softness to them.
Nate Armchair
A study in retro elegance brought up to date. The sculpted form and intentionally visible support showcase form and function. I be you glide into this chair like a comfortable shoe.
Descriptions mostly from OKHA.
Alphen Dining Chair
The Alphen dining chair was originally conceived as a bespoke chair for the recent refurbishment of the Alphen Boutique Hotel, but here OKHA takes it a step further with a new seat shape that brings together modern and retro influences.
Burbuja Coffee Table
Spanish for Bubble, the Burbuja twin coffee tables are an exercise in graphics and reduction. The taller table overlaps the other and depending on the table top material used provide a play of reflective and transparent surfaces. I like how they nest together like when you blow bubbles and they're stuck to each other.
Collapsed Vessels
The Collapsed Vessels give the impression of capturing, freezing in time colored plumes of smoke, it's as though the vessels themselves contain a mystical vapor. The glass is caressed delicately into shape, teardrops forms or like rivulets of water, they gently sway and lean. These remind me of unfolded flowers.
Extended Tribu
Hand-carved solid oak stool in the pure and simple Japanese style with diamond stitched leather padded seats.
La Plage Sofa
French for The Beach, La Plage is a deeply comfortable relaxed and informal sofa that also retains an elegant appeal.
Renn Side Table
"The Renn side table, a direct homage to Charles Rennie Mackintosh," says the designer.
Lean On Me Standing Lamp
The mirrored cube provides an unlikely and provocative support for the upright, its seemingly precarious relationship to the reflective mirrored cube asks questions as to the nature of relationships.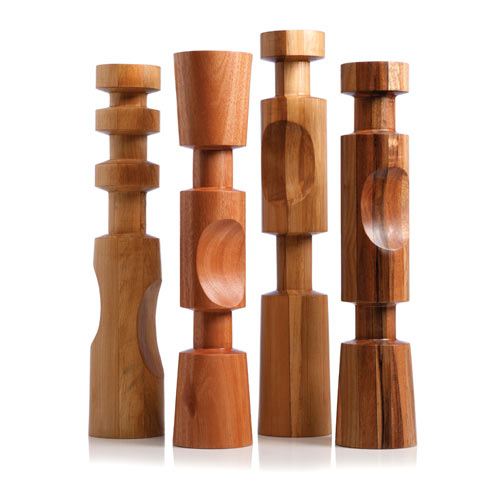 Mojo Candlesticks
Doodles and sketches that were a more or less direct translation of listening to Jim Morrison of the Doors singing "Mr Mojo Risin."
Hand Machine Candlesticks
Using various indigenous woods, the Hand Machine candlesticks are a perfect expression of man & machine in harmony. Available in a wide range of sizes, each work hand crafted.
Omega Server
Omega is inspired by the "Oneness" of Japanese minimalism, its pure form, respect for materials, texture and craftsmanship come together to create a perfect singular balanced form that provides a defined function.
Opus Standing Lamp
"The Opus Standing Lamp, a musical stroke, a symphony in light," says Court.
Rake Cropped Dining Chair
Beautifully crafted, lovingly sculpted from solid walnut, the rake chair pays homage to the mid-century classics and the nature of wood itself but also brings the style contemporary relevance.

Design From Around The Web