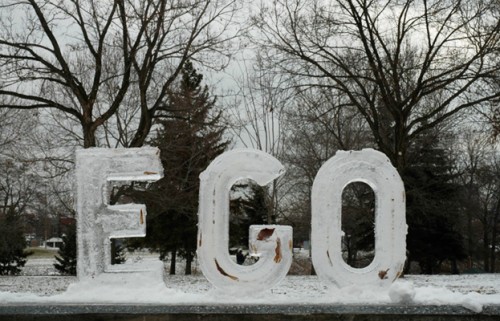 Environmental multimedia artist Nicole Dextras uses elements of nature to create works that are often also sited in nature or the urban landscape. She's constructed life size clothing out of flowers and leaves, and fashioned cultural messages from grass and ice. We love the crazy big text creations from her two series Ice Typography and Green Words.
Above: The EGO in Negotiated Space is when citizens don't want to share their space. From the Municipal Mind series (more on this below).
Guerilla ice text installations on the streets of Toronto in 2008, based on the book Municipal Mind, by the city's poet laureate, Pier Giorgio Di Cicco. For the Municipal Mind series, Dextras was inspired by Di Cicco's eloquent writing about how the vibrancy of a city depends on the creative spirit of the individuals who occupy it. Here, Dextras explores the idea that Toronto is a global city full of ethic neighborhoods and wonders, "How long until they all disappear?"
Dextras installed ice text on Lake Nipissing during the Ice Follies exhibition hosted by the WKP Kennedy Gallery in North Bay, Ontario in 2008. The Resource Project questioned ownership of natural resources on a local, national, and global level. In this photograph, small ice text spelling "LOCAL," "NATIONAL" and "GLOBAL" accompanies the larger piece questioning how people impose boundaries on nature.
Signs of Change was a solo exhibition of photographs of past ice text projects, plus an offsite component of new words made of ice that were left to melt in the urban landscape. Each word was pertinent to the site and spoke to the need to subjugate nature and to dominate the environment.
Dextras created In/Flux during an Art Residency at the Banff Art Center in Alberta in winter 2005. Banff is a ski resort town in the Rocky Mountains. It's a prime example of the influx of commercial interest incorporated into a wilderness landscape.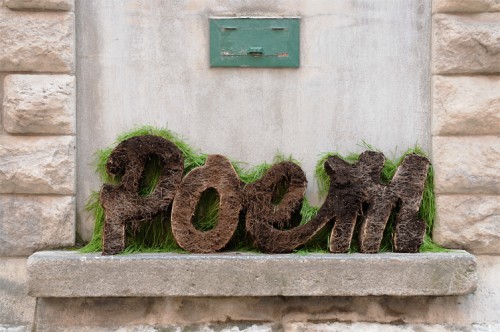 Poem was a grass text planted in the Touchstone Gallery during the SALT: The Distillation of Matter exhibition. The intent was to produce a root casting of the word poem; the soil and the growth as the root of poetic inspiration throughout history.
Dextras planted grass seed to form the word Claim on land that was once the native village of Snauq. This installation corresponds to the larger Belonging; sous le pont project. Friends came by to visit and dress the scarecrow. Dextras took this photo from the bridge, where she perched everyday to document the growth and engage in conversation with the public.